ENEMIES ON THE LEFT FALSE FRIENDS ON THE RIGHT
PART 23
By Kelleigh Nelson
June 1, 2015
NewsWithViews.com
"A double minded man is unstable in all his ways." -James 1:8
Now I beseech you, brethren, mark them which cause divisions and offences contrary to the doctrine which ye have learned; and avoid them. For they that are such serve not our Lord Jesus Christ, but their own belly; and by good words and fair speeches deceive the hearts of the simple. -Romans 16:17-18
Mark Reed Levin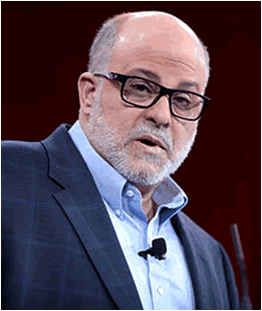 Mark Levin was born September 21, 1957, is an American lawyer, author, and the host of a syndicated radio show The Mark Levin Show. Mark is a long time member of the CNP according to a 1998 membership list. He has also been a speaker at the Council for National Policy for one Becky Norton Dunlop, Vice President for External Relations for Heritage Foundation, which is another story in itself.
Levin is President of Landmark Legal Foundation. He is also a Board member of The Patrick Henry Center for Individual Liberty, whose founder is fellow CNP member, Gary Aldrich. His fellow board member is, none other than, fellow CNP member, Edwin Meese III who holds the Reagan Chair in Public Policy at The Heritage Foundation. Other board members, (now deceased) include, CNP members, Paul Weyrich of Heritage Foundation, Free Congress Foundation, and ALEC; Reed Irvine of Accuracy in Media, now headed by Cliff Kincaid; and Howard Phillips of The Conservative Caucus and The Constitution Party.
Living board members include CNP members, Mr. Peter T. Flaherty, President, National Legal and Policy Center, Alan P. Dye, Esq. (legal counsel for American Legislative Exchange Council); Lt. Col. Oliver North; Ronald E. Robinson, Esq, President, Young America's Foundation; Rep. Louis (Woody) Jenkins Chairman, WBTR-TV Channel 19; Alan Sears, (Staff Director of the Meese Commission) Esq., President and CEO, Alliance Defense Fund; Beverly LaHaye, Concerned Women of America.
In a biographical note on the website of the Young America's Foundation, Levin "served previously in the Reagan Administration, including chief of staff to Attorney General Edwin Meese, Associate Deputy Attorney General of the United States, and Deputy Solicitor at the U.S. Department of the Interior. He represented Mr. Meese during the Iran-Contra (Ollie North) investigation and was a leading advocate for the impeachment of President Bill Clinton." He is an MSNBC legal analyst, a contributing editor of CFR, CIA, and Skull and Bonesman, William F. Buckley's National Review, and a frequent contributor to Human Events and the Moon owned Washington Times.
He is also a strong proponent of a Constitutional Convention, and wrote his book, The Liberty Amendments proposing a con-con. Sadly, he won't listen to the many arguments against one. Levin states that he wants to foster a national debate about corrective actions. In fact, when listeners call into his radio show to present arguments against an Article V Convention, or a Balanced Budget Amendment, or a Convention of States, they are disconnected, their names put on a list, and they are not allowed to call in again. Like the rest of the pro-Constitutional Convention gang, Levin refuses to hear any arguments against it, to debate anyone who can present the dangers of another Convention, and like the rest of them, will use Saul Alinsky's tactics of destroying the messenger, because they obviously cannot win on the merits of their own arguments. See, Mark Levin Refuted and Mark Levin's "Liberty" Amendments: Legalizing Tyranny.
Alan Keyes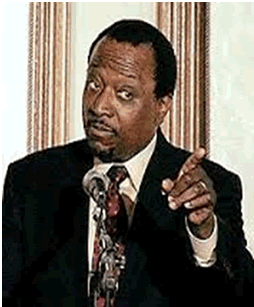 Alan Keyes was/is a member of the Council for National Policy (CNP Membership Directory) in 1996, 1998, and 1999. He was also a former U.S. representative to the United Nations. Though Keyes is sometimes referred to as "Ambassador Keyes," the title is misleading since he only served as the U.S. ambassador to the UN Economic and Social Council, not as ambassador to the UN or as an ambassador to a country.
A year before completing his doctoral studies, Keyes joined the United States Department of State as a protégé of Jeane Kirkpatrick (CFR, TC, former member of The Young Peoples Socialist League). In 1979, he was assigned to the consulate in Mumbai, India. The following year, Keyes was sent to serve at the embassy in Zimbabwe.
In 1983, President Ronald Reagan appointed Keyes as Ambassador to the United Nations Economic and Social Council. In 1985, he was appointed Assistant Secretary of State for International Organizations, a position he held until 1987. Kirkpatrick was Keyes' boss at the UN. [Link]
His stay at the UN provoked some controversy, leading Newsday to say "he has propounded the more unpopular aspects of US policy with all the diplomatic subtlety of the cannon burst in Tchaikovsky's 1812 Overture." Keyes obviously speaks out of both sides of his mouth inasmuch as he claims he is staunchly pro-life, yet he worked for the very pro-abort, pro-population reduction, United Nations.
He also served on the staff of the National Security Council. On May 26, 2009, President Barack Obama merged the White House staff supporting the Homeland Security Council (HSC) and the National Security Council into one National Security Staff (NSS). The HSC and NSC each continue to exist by statute as bodies supporting the President.
In 1987 Keyes was appointed a resident scholar for the American Enterprise Institute. His principal research for AEI was diplomacy, international relations, and self-government. He was with AEI as a scholar for two years. See part 13 for an overview of AEI who is supported by the Peter G. Peterson Foundation. And just who is Peterson? He's the chairman emeritus of the Council on Foreign Relations and founder and chairman of the Peter G. Peterson Foundation. He was also the former Chairman of the Federal Reserve Bank of New York between 2000 and 2004.
Also on the board of AEI is Raymond Gilmartin, retired chairman and CEO of Merck & Co. who was director during the Vioxx scandal and sat on the board of Microsoft as well. And don't forget their infamous Gardasil vaccine.

The Bill & Melinda Gates Foundation supported AEI's education policy studies headed by Frederick M. Hess who authored reports and other education projects and whose working group includes Washington, D.C. schools chancellor Michelle Rhee and Michael Feinberg, the cofounder of KIPP, both of whom have helped to destroy academic education in America, but that's another article in itself.
The following information was provided in the 2nd edition of Pastor James Patrick's "America 2000/Goals 2000" Research Manual:
Alan Keyes was William Kristol's roommate at Harvard. Bill is a Bilderberger member (left click to enlarge Bilderberger map). Bill Kristol's father, Irving Kristol, an avowed Trotskyite, who joined the Young People's Socialist League in the 1930s. In 1953, Irving Kristol founded the magazine, "Encounter" in England, which was secretly being supported by the CIA. It ran puff pieces for Fabian Socialist and Bilderberger, Hugh Gaitskell, head of the Labor Party.
In 1965, together with Daniel Bell, Kristol founded the "Public Interest." This was a publication of "Freedom House." Bell belonged to the Young Socialist League and the League for Industrial Democracy which had been named the Intercollegiate Socialist Society. Like Kristol, Bell was subsidized by the CIA through an organization called the Congress for Cultural Freedom of which Bell was a leader. Irving Kristol's partner, Daniel Bell, has suggested we do away with state boundaries and most local government. Daniel Bell was a CFR member.
For ten years Bell had worked for Brotherhood of Death member (Skull and Bones & CFR) Henry C. Luce at one of his magazines, Fortune. In 1969, Irving Kristol was made the Henry R. Luce professor at New York University. George Field ran the Freedom House which published Kristol and Bell's, The Public Interest. Field was chairman of the Rand School for Social Science which was owned by the American Socialist Society. It was financed by the Garland Fund which keeps many Communist projects going. Freedom House's Bookshelf Program was run by Rex Stout who previously published New Masses, a Communist Weekly. Vice President under Gerald Ford, Nelson Rockefeller, directly gave Irving Kristol $100,000 through his Commission on Critical Choices for just 15 short essays. Irving's son, William Kristol did make it big time. William Kristol was promoted by Newsweek as one of the top three strategists of the GOP. He launched a weekly magazine called the Standard and is backed financially by Ruppert Murdoch. Kristol is assembling the next generation of socialists on behalf of the NWO. The Kristol's have plotted for two decades under the disarming word, "neo-conservative." They are, in fact,
Trotskyites, as I've given the definition in two parts of this series.
William Kristol ran Alan Keyes' 1988 Senate Campaign in Maryland. Keyes was part of Reagan's National Security Team, and Reagan's National Security was made up of CFR George P. Schultz; CFR/T Soviet Agent, Henry Kissinger; CFR William Case; CFR/T Casper Weinberger; and CFR Gen. David Jones; with David Rockefeller (Chairman of CFR/T) being an unofficial advisor.
Keyes was promoted by Jeanne Kirkpatrick. Jeanne Kirkpatrick was a member of the Trilateral Commission and the Council on Foreign Relations. In fact, as recently as the 80s, Kirkpatrick was still on the letterhead of the League for Industrial Democracy.
1932 poster for League for Industrial Democracy, designed by Anita Willcox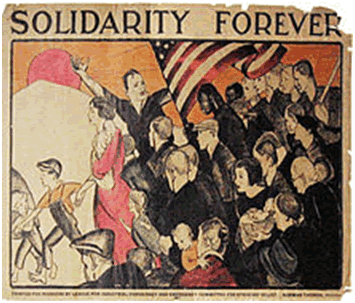 during the Great Depression, showing solidarity with struggles of workers and poor in America
Kirkpatrick believed in abortion, East-West trade, business with China, and that the Monroe Doctrine is no longer valid. Her American Enterprise Institute is supported by NY Banks and big Oil, CFR and CIA assets. Her husband for many years, Evron, was with the Office of Strategic Services (OSS) State Dept and was Director of the Office of Intelligence Research. The OSS was a United States intelligence agency formed during World War II. It was the wartime intelligence agency, and a predecessor of the Central Intelligence Agency (CIA). Evron's specialty was behavioral science. He, since 1954, had been the executive director of the American Political Science Assoc. Hubert Humphrey was the direct product of Evron Kirkpatrick. The Kirkpatrick's have fashioned candidates scientifically. Keyes is the product of his handlers (those with global fish to fry).
Saying all the right things to sop up and drain support of gullible traditionalists, Keyes was president of Citizens Against Government Waste founded by J. Peter Grace, CFR, CNP. Grace was no more conservative than McGeorge Bundy, Soviet Agent, Henry Kissinger, or W. Averill Harriman. See Esquire Sept. issue 1977, The Latest Secrets of Skull and Bones by Ron Rosenbaum. William Grace is J. Peter Grace's father and was the signer of incorporation papers of the CFR, in NY City the 25th of July, 1921.
Also signing on that document was Paul Warburg, who was a key personality in the founding of the Federal Reserve in 1913. The W.R. of W.R. Grace stands for William Russell, William Russell was a co-founder of the Brotherhood of Death. It is considered by some students of history that J. Peter Grace has been born into the American Illuminati. Also see Soviet expert Dr. Antony C. Sutton's book, America's Secret Establishment on page 5.
Keyes' Failed Illinois Senatorial Run
Alan Keyes, was the 2004 Republican candidate for the U.S. Senate in Illinois, against Barack Obama. Keyes once referred to black slave reparations as "an insult to our slave ancestors," but in 2004 called for a plan that would exempt the descendants of slaves from income taxes for at least a generation. In a manner of speaking, he was calling for reparations for black Americans.
Tax exemption would give Blacks "a competitive edge in the labor market, "because they would be cheaper to hire than federal tax-paying employees" and allow Blacks to be compensated" for all those years when your labor was being exploited," said Keyes.
He lost to Barack Obama, who had voted three times in the Illinois legislature against the Born Alive Infant Protection Act. Sadly, my home state is riddled with communists.
Conclusion
Remember there are over 400 members of the secretive Council for National Policy, and it would be impossible to write about each and every one of them. They are not our friends. They are, in fact, the right arm of the Council on Foreign Relations. There are a few places on the web where membership lists, albeit older lists, are available.
Public Eye, Ministers Best Friend, SourceWatch are the most available lists, but are not up-to-date. Wikipedia also has a short list.
Most of the books used for research are available at Amazon.
• Thy Will be Done: The Conquest of the Amazon: Nelson Rockefeller and Evangelism in the Age of Oil by Gerard Colby with Charlotte Dennett
• William F. Buckley: Pied Piper for the Establishment by John McManus
• Ominous Politics: The New Conservative Labyrinth by John S. Saloma III
• Roads to Dominion: Right Wing Movements and Political Power in the United States by Sara Diamond
• Old Nazis, the New Right, and the Republican Party: Domestic Fascist Networks and Their Effect on U.S. Cold War Politics by Russ Bellant
• The Coors Connection: How Coors Family Philanthropy Undermines Democratic Pluralism by Russ Bellant
• Eyes Right: Challenging the Right Wing Backlash by Chip Berlet
• The Family by Jeff Sharlet
• Soldiers of God by Howard L. Bushart, John R. Craig, Myra Barnes, Ph.D
• The Religious Right in Michigan Politics by Russ Bellant
• Spiritual Warfare by Sara Diamond
• The Holy Bible, Ryrie Study Bible, KJV
Click here for part -----> 1, 2, 3, 4, 5, 6, 7, 8, 9, 10, 11, 12, 13, 14, 15, 16, 17, 18, 19, 20, 21, 22, 23,
© 2015 Kelleigh Nelson - All Rights Reserved
---
Kelleigh Nelson has been researching the Christian right and their connections to the left, the new age, and cults since 1975. Formerly an executive producer for three different national radio talk show hosts, she was adept at finding and scheduling a variety of wonderful guests for her radio hosts. She and her husband live in Knoxville, TN, and she has owned her own wholesale commercial bakery since 1990. Prior to moving to Tennessee, Kelleigh was marketing communications and advertising manager for a fortune 100 company in Ohio. Born and raised in Chicago, Illinois, she was a Goldwater girl with high school classmate, Hillary Rodham, in Park Ridge, Illinois. Kelleigh is well acquainted with Chicago politics and was working in downtown Chicago during the 1968 Democratic convention riots. Kelleigh is presently the secretary for Rocky Top Freedom Campaign, a strong freedom advocate group.
Website: www.rockytopfreedom.com
Blog: http://exposingmodernmugwumps.com/
E-Mail: Proverbs133@bellsouth.net
---