ENEMIES ON THE LEFT FALSE FRIENDS ON THE RIGHT
PART 3
By Kelleigh Nelson
May 19, 2014
NewsWithViews.com
"If there is to be any future for America as an independent nation, somebody must tell the truth. That truth is painful to most Americans who have been silently reeducated over the last one hundred years. -The Don Bell Report
As I mentioned in Part 2, the CNP still has CFR members on their membership lists today. It is populated by neo-con Trotskyites and corporate fascists, along with Dominionists/Reconstructionists, and cultists. There was a long and planned process of destroying old right Constitutional conservatism which has unfortunately succeeded. Here's what happened:
Forty or fifty years ago or more, those who have become leaders in today's Republican party drifted away from Trotskyism and began to identify themselves as democratic socialists. Still later, under the guise of neo-conservatives, Irving Kristol and William F. Buckley, who emasculated true old right conservatism, slithered into the Republican party as "moderates." They stole the name of "conservative" and seized intellectual control of the true conservatives, as well as the entire Republican party. I strongly suggest the purchase of John McManus's well documented and referenced book, William F. Buckley, Pied Piper for the Establishment. Buckley was CFR, CIA agent, Skull and Bonesman from Yale, as well as an invited guest to Bilderberger conferences. [Link]
We must not ignore Leon Trotsky. Trotsky, unlike Stalin and Lenin, favored the slow and patient imposition of Marxist socialism without murders and gulags, yet he had no problem murdering three million Russians. Trotsky wished for the people to "choose" Marxism, rather than having it forced upon them. Irving Kristol, father of Bilderberger, Bill Kristol, stated, "I regard myself as lucky to have been a young Trotskyite and I have not a single bitter memory."
Dominionists/Reconstructionists desire a Christian theocracy to head the country, a return to old testament laws, (punishment for sin, i.e. stoning in the street for homosexuals, adulterers, etc.) and they believe Christ will not return until they have theocratized the world. Here is a more thorough definition.
As for cults, the main influence in the CNP was none other than Sun Myung Moon through the front group, American Freedom Coalition, headed by Dr. Robert Grant. The Church of Scientology is also a member of American Legislative Exchange Council. [Link]
In the late 70s, the view on the Right was that an organization such as the Council for National Policy was needed. It stemmed from their perception that the Council on Foreign Relations (CFR) - closely identified with the Rockefeller family - was selling out American interests in the pursuit of a "left-wing foreign policy agenda." This is true, however, these right wing groups, under the CNP umbrella, have been extremely helpful in promoting the exact same agenda. Go back and reread the statement in Tragedy and Hope by Carroll Quigley in Part 1 of this series, and remember that statement is from 1966.
All the organizations within the CNP sent us fund raising letters promising to stop the abortion agenda, the homosexual agenda, the anti-gunners and everything else. They are tied to the Heritage Foundation in promoting great sounding rightwing principles, which failed to tell the core and truth of the Republic's destruction. The grassroots people trusted these alleged Christian patriots, and sent them millions and millions of dollars. These groups all became wealthy, and grew exponentially. The grassroots middle class Christians and patriots became poor. Nothing changed. It is even worse today after 30 years of funding these groups.
The majority of these various groups claimed to be Christians, yet had a self righteous attitude towards those who had abortions or were homosexuals. Needless to say, their rhetoric didn't win any converts, and why should it? They were busy pointing fingers and screaming "Sinner!" The love of Christ was not in their hearts or in their treatment of their fellow man.
So now, let's take a look at two of the four top movers and shakers who founded the CNP. Please note this is just skimming the surface of their involvements.
Nelson Bunker Hunt
Hunt was a Texas Oil Man and silver manipulator and financial provider for fellow CNP member, Bill Bright's Campus Crusade for Christ. He lost his
fortune in the silver market, but has since regained it. [Link] Bunker also provided Wycliffe Bible Translators property in TX for a new international translation center. Thy Will Be Done, by Colby and Dennett, documents the connections between Wycliffe Bible Translators, the Rockefeller family, and the CIA who carried out the genocide of indigenous tribes in the Amazon basin. As well, he funded CNP member Ed McAteer, "the Colgate-Palmolive salesman who was the organizing force behind the politicized Fundamentalist movement"...and who had the McAteer Roundtable years ago where these CNP members met to decide policy. McAteer was also on the Wycliffe Bible Translation board. Colby and Dennett also describe the vital role of Ed McAteer in bringing together wealthy liberal and conservative patrons to fund and direct the Wycliffe organization which, in the name of Christ, was assisting Nelson Rockefeller in the conquest of Latin America. [Link] Ed McAteer was also instrumental in the founding of CNP member, Jerry Falwell's Moral Majority.
In 1951, Bunker Hunt and Wallace Johnson, founder of Holiday Inns, worked with and funded Bill Bright's Campus Crusade for Christ donating $15.5 million. In 1967, Hunt formed the Christian World Liberation Front (CWLF) as a covert front for Campus Crusade, which split off and became a leading ministry in the Jesus People movement. He once organized a paramilitary force called "Americans Volunteer Group" which he intended to use as a "death squad" against political opponents. [Ominous Politics, Saloma 53; Roads to Dominion, Diamond 51-56, 250]
Recently, Wycliffe's effort was to complete a new translation which eliminated both Father and Son from the Bible in order to be more appealing to Muslims. The outcry of the public apparently stopped this.
Pat Robertson
Robertson is a Southern Baptist and was active as an ordained minister with that denomination for many years, but holds to a charismatic theology not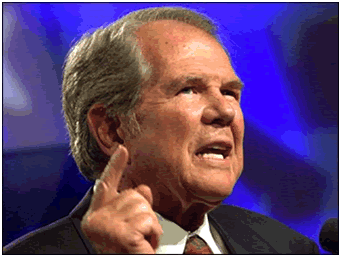 traditionally common among Southern Baptists. Pat holds a law degree from Yale, having turned to the ministry after he failed to pass the bar in New York State.
He is the founder of Christian Broadcasting Network, and stated in his book, Shout it From the Housetops, that he was led to Christ by Dutch Missionary Cornelius Vanderbreggen.
Vanderbreggen was present at the 1987 National Religious Broadcasters (NRB) Convention and according to new age expert and attorney, Constance Cumbey, author of Hidden Dangers of the Rainbow, [Available from NWV for $24.95, 800-955-0116 only 6 copies left] Vanderbreggen was at the booth for Willis Carto's Liberty Lobby, the former publisher of the Spotlight Magazine. Vanderbreggen was actually doing seminars for Liberty Lobby about Israel and the Bible. Carto is also the co-founder of the Institute for Historical Review, considered the leader in Holocaust denial groups. Critics claim, and rightly so, that Carto and his organizations are anti-Semitic.
Connie was at the 1987 National Religious Broadcasters' Convention, where she saw Vanderbreggen at the Liberty Lobby booth. She immediately remembered reading Robertson's book, and that Vanderbreggen was mentioned as having led Robertson to Christ. Vanderbreggen was sent to talk to Connie and dissuade her of the belief that the Institute for Historical Review was a holocaust denial group. Anyone that knows Constance Cumbey knows she documents everything and has a memory like a steel trap. Present with Connie, and witness to all this was none other than Joseph Carr, author of The Twisted Cross: The Occultic Religion of Hitler and the New Age Nazism of the Third Reich. I asked Connie if she thought Vanderbreggen was a dominionist because Robertson so often featured the leading Council for National Policy dominionists on his Christian Broadcasting Network program. She said she thought of him as more of a Nazi. Read Connie's 5 part article at NWVs, entitled, "The Family" and It's Hijacking of Evangelicalism.
Pat also was the founder of Christian Coalition, headed by fellow CNP member, Ralph Reed, who was later disgraced for his involvement with another CNP member, Jack Abramoff. Jack was D.C. lobbyist, who went to prison for the Indian lobbying scandal. Christian Coalition was famous for their voter guides, but there are countless incidents where lies or omissions were told about true Constitutional conservatives in order to elect the moderates or neo-conservatives instead.
In 1997, Robertson also sold his Family Channel for 1.9 billion to CFR member, Rupert Murdoch, which renamed it Fox Family. A condition of the sale was that the station would continue airing Robertson's television program, The 700 Club, twice a day in perpetuity, regardless of any changes of ownership. The channel is now owned by Disney and run as "ABC Family."

Subscribe to NewsWithViews Daily E-Mail Alerts!
Robertson worked for two years as financial analyst and management trainee at W.R. Grace Co., which employed émigré Nazis after WWII. Robertson was also godfather of the child of company president J. Peter Grace, who, as I stated in Part 2, was head of the Sovereign Military Order of the Knights of Malta in the United States, and a key figure in the CIA's Operation Paperclip to remove classified information from dossiers on Nazi war criminals. Grace was CFR as well as CNP on the initial membership roster, and was also on the board of CNP member, Willard Garvey's International Conference on Privatizing Education. In 1984, between the establishment of Garvey's National Center for Privatization and Reagan's executive order to permanently establish low fees for public land grazing, Willard Garvey wrote a letter to President Reagan, dated April 6, 1984, which stated, in part, "Privatization is now an idea whose time has come.' The knowledge, communication, and computer industry can make political representatives obsolete!" [Link] This letter also included a brochure for the Heritage Foundation.
In 2008, Pat rushed to endorse pro-abort, pro homosexual, anti-gunner, Rudi Guilliani, and in 2012, endorsed Willard Mitt Romney.
In Part 4, we'll look at Tim LaHaye and T. Cullen Davis as well as other powerful people within the Council for National Policy.
Click here for part -----> 1, 2, 3, 4,
© 2014 Kelleigh Nelson - All Rights Reserved
---
Kelleigh Nelson has been researching the Christian right and their connections to the left, the new age, and cults since 1975. Formerly an executive producer for three different national radio talk show hosts, she was adept at finding and scheduling a variety of wonderful guests for her radio hosts. She and her husband live in Knoxville, TN, and she has owned her own wholesale commercial bakery since 1990. Prior to moving to Tennessee, Kelleigh was marketing communications and advertising manager for a fortune 100 company in Ohio. Born and raised in Chicago, Illinois, she was a Goldwater girl with high school classmate, Hillary Rodham, in Park Ridge, Illinois. Kelleigh is well acquainted with Chicago politics and was working in downtown Chicago during the 1968 Democratic convention riots. Kelleigh is presently the secretary for Rocky Top Freedom Campaign, a strong freedom advocate group.
Website: www.rockytopfreedom.com
E-Mail: Proverbs133@bellsouth.net
---