ENEMIES ON THE LEFT FALSE FRIENDS ON THE RIGHT
PART 14
By Kelleigh Nelson
September 6, 2014
NewsWithViews.com
When the righteous are in authority, the people rejoice: but when the wicked beareth rule, the people mourn. —Proverbs 29
"It's easier to fool people than to convince them that they have been fooled." —Mark Twain
Heritage Foundation is extremely well funded. The below article from The Hill gives an idea of the monies which pass through this Foundation:
"Heritage's expenses totaled $80 million last year compared to $82 million in 2012. DeMint received $614,000 in compensation in 2013 from Heritage, including his $380,000 base salary and a $200,000 bonus, according to the tax document. (That's quite a bit more than his $174,000 as a senator.) Edwin Feulner Jr., the organization's outgoing president who led Heritage for 36 years, received $3.5 million in compensation in 2013, a figure that could raise eyebrows among the think tank's critics. Feulner earned a 2013 base salary of $181,000 and a $700,000 bonus for his service as the think tank's president in 2012. He also received $2.52 million from a deferred compensation plan into which he contributed $865,000 from 1980 to 2006. The plan accrued $1.66 million in investment earnings. He continues to serve as chairman of Heritage's Asian Studies Center. Senate Republican Leader Mitch McConnell's (Ky.) wife, Elaine Chao, who served as secretary of Labor under former President George W. Bush, received $267,000 as a distinguished fellow at Heritage."
This is what your $25.00 per month donation funds....big salaries!
Heritage's Asian Studies Center
In 1983, together with Dr. Edwin J. Feulner, Jr., CNP member, Richard V. Allen founded the Heritage Foundation's Asian Studies Center, (note who their guest speakers have been). Allen was the previous chairman of the Center, but now it is headed by Feulner.
With a "long history of receiving large donations from overseas," Heritage continued to rake in a minimum of several hundred thousand dollars from Taiwan and South Korea each year through the 1990s, according to Fairness & Accuracy in Reporting. [Link]
In the autumn of 1988, the South Korean National Assembly uncovered a document revealing that Korean intelligence secretly gave $2.2 million to the Heritage Foundation during the early 1980s. In turn, Heritage established an Asian Studies Center. (The Coors Connection by Russ Bellant, page 3-6). There was also a connection between Heritage and the Rev. Sun Myung Moon (founder of the "Moonies" as well as of the Washington Times). This first appeared in a 1975 congressional investigation on the Korean Central Intelligence Agency (KCIA) activities in the US. The report noted, "In 1975, Ed Feulner ... was introduced to KCIA station chief Kim Yung Hwan by Neil Salonen and Dan Feffernan of the Freedom Leadership foundation". Salonen was head of Sun Myung Moon's Unification Church in the United States. The Freedom Leadership Foundation (FLF), a political arm of Moon's Unification network, was linked to the World Anti-Communist League. (Again see Russ Bellant's The Coors Connection, page 3-6).
Heritage officials "categorically deny" the accusation that the organization received money from Korean intelligence. In 1995, Heritage's annual report did include a $400,000 grant from Samsung, a Korean company. The Wall Street Journal also reported that between 1993 and 1996, Heritage received almost $1 million from the Korea Foundation, which reportedly "serves as a direct conduit of money from the South Korean government.
Kathryn and Shelby Cullom Davis's gift to Heritage
The Davis's
Just recently Heritage received a gift of $26 million. Following decades of strong support, the family of the late Kathryn and Shelby Cullom Davis announced that they have made a $26 million gift to advance the work and mission of the Davis Institute for International Studies at The Heritage Foundation. Shelby Cullom Davis was a member of Heritage's board of trustees from 1979 to 1992.
Like Heritage accepting $200,000 from former CFR Chairman Peter G. Peterson's Foundation to participate in a forum on how to address the fiscal cliff, the gift from the Davis family is telling. The late Shelby Cullom Davis was an early and influential backer of Heritage's mission, and his support led to the publication of Mandate for Leadership, which became a blueprint for President Reagan's first term in office. [Link]
Shelby Cullom Davis (April 1, 1909 – May 26, 1994) was an American investment banker, philanthropist, and former United States Ambassador to Switzerland hailing from the state of New York. He served as the American envoy in Bern under Presidents Richard Nixon and Gerald Ford from 1969 to 1975. His wife Kathryn Wasserman Davis was an American philanthropist, scholar of world affairs, and longtime promoter of women's rights through the League of Women's Voters as well as Planned Parenthood. She was committed to engaging local communities, particularly regarding the environment on the Hudson River and Maine coast, and also concerned with access to high-quality education meaning global education initiatives. Davis was a member of the Council on Foreign Relations, the Council of American Ambassadors, the New York Stock Exchange, and the Visiting Committee of the Davis Center at Harvard. She was a Wellesley College trustee for 18 years. In addition, she served as a distinguished trustee at the United World College-USA, an honorary trustee at the Heritage Foundation, trustee emerita at The Youth Foundation, on the advisory board of Seeds of Peace, and as a decades-long officer and trustee of the Women's National Republican Club.
The Koch Brothers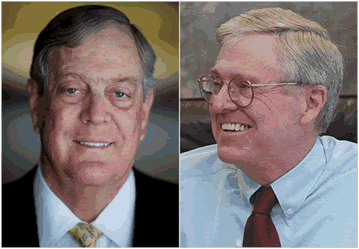 David and Charles Koch
The Koch brothers (pronounced "Coke") -- David and Charles -- are the right-wing billionaire co-owners of Koch Industries. As two of the richest people in the world, they are key funders of the right-wing infrastructure, including the American Legislative Exchange Council (ALEC) and the State Policy Network (SPN), which are mini-Heritages in each state. Key articles on the Kochs include: Koch Brothers, Koch Industries, Americans for Prosperity, and Freedom Partners (who funds the neo-con Trotskyite Tea Party Patriots who are pushing a Constitutional Convention).
David Koch is on the board of Trustees of Rockefeller University. He is also on the board of Earthwatch Institute, an environmental, sustainability, Agenda 21 group. See this map of Koch's many connections. David Koch also supports gay marriage and stem-cell research. He is also on the board of the globalist new age Aspen Institute formerly headed by new age environmentalist Maurice Strong. Strong, Club of Rome member, devout Bahai, founder and first Secretary General of United Nations Environmental Programme (UNEP), has been the driving force behind the birth and imposition of UN Agenda 21. While Strong chaired the Earth Summit, outside his wife Hanne and 300 followers called the Wisdom-Keepers, continuously beat drums, chanted prayers to Gaia, in order to "establish and hold the energy field" for the duration of the summit. You can view actual footage of these ceremonies on youtube.
Strong has membership in the following organizations, but this does not include the entire list:
• Senior Advisor to UN Secretary General Kofi Annan
• Senior Advisor to World Bank President James Wolfensohn
• Chairman of the Earth Council
• Chairman of the World Resources Institute
• Co-Chairman of the Council of the World Economic Forum
• member of Toyota's International Advisory Board
• member of the Futurist Society (which Newt Gingrich also belongs to as well as Newt's long time friends Alvin and Heidi Toffler).
The Koch brothers affiliations are both left and right. The Heritage Foundation has received funding from organizations with connections to the Koch brothers. In 2012, the Heritage Foundation received $650,000 from the Claude R. Lambe Foundation, which was one of the Koch Family Foundations before it closed in 2013. The Lambe Foundation contributed at least $4.8 million to the Heritage Foundation between 1998 and 2012.
Rich States, Poor States: ALEC-Laffer State Economic Competitiveness Index is an annual economic competitiveness study authored by economist Dr. Arthur Laffer, Stephen Moore, chief economist at the Heritage Foundation, and Jonathan Williams, Director of the Tax and Fiscal Policy Task Force at the American Legislative Exchange Council. Until recently, little information was available about the funders of Rich States, Poor States, but tucked in a cache of ALEC internal documents obtained by the Guardian in December, 2013, was a spreadsheet (PDF pg. 40) that showed for the first time that Rich States, Poor States is funded by the Kochs' Claude Lambe Foundation, as well as the Searle Freedom Trust.
The Claude R. Lambe Charitable Foundation (CRLF) is one of three Koch Family Foundations; this one was controlled by Charles Koch. He created the foundation in Wichita in the early 1980s with funds from the estate of his friend Claude Lambe. For the past three decades, CRLF has often spent millions annually to provide a regular infusion of cash for groups pushing the agenda favored by Koch. This includes millions of dollars, cumulatively, provided to the American Legislative Exchange Council (ALEC), the Heritage Foundation, the Federalist Society and some state-based think tanks operating under the State Policy Network (SPN) banner.
The Searle Freedom Trust, was founded by David Searle, who made millions from aspartame marketed as NutraSweet. Both foundations are major funders of the neo-con rightwing which includes ALEC and the Heritage State Policy Network, 64 state-based think tanks that produce academic reports, talking points and more to advance ALEC's agenda, and their promotion of a Constitutional Convention. [Link]
The Koch family-controlled Claude R. Lambe Foundation (CRLF) was dissolved in 2013, further limiting what little is publicly known of which groups receive money controlled or directed by Charles and David Koch and their operatives. As seems likely, if the Koch brothers, both individually and through Koch Industries, are making similar grants elsewhere, then the size and scope of their influence has been significantly underestimated. The likely impact of CRLF's closing, even if what it demonstrates, is just the tip of a very large iceberg, will be that the public knows even less about the Koch brothers' political spending. The foundation closed by transferring more than $2 million to an unspecified "donor-advised fund" within the Fidelity Investments Charitable Gift Fund, to be distributed at the direction of whomever controls that donor-advised fund.
The National Journal also reported in September 2013 that David Koch himself had provided a $850,000 personal check to the Americans for Prosperity Foundation in 2003. Similarly, CMD reported that David Koch provided the Massachusetts SPN think tank Pioneer Institute, with a $125,000 personal check in 2007. Both of these documents were public, although unexpectedly so.
In recent years, the Heritage Foundation has also received funding from Donors Trust and Donors Capital Fund, including $53,300 in 2010 and $69,850 in 2012. The Koch brothers have donated millions of dollars to Donors Trust through the Knowledge and Progress Fund, and possibly other vehicles.
Jimmy Swaggart Ministries Update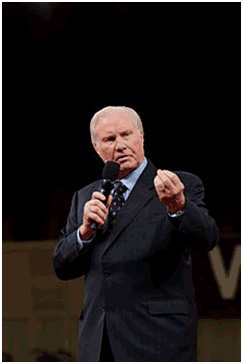 Jimmy Swaggart
In Part 4 of this series we discussed Tim LaHaye as one of the founders of the Council for National Policy. In that article I stated,
"Other so-called evangelicals that served with LaHaye at CRF as executive committee and/or advisory board members were CNP charter member, Dominionist Don Wildmon, founder and president of the social activist American Family Association; Point Of View nationwide radio talk show host, CNP charter member, Marlin Maddoux, (deceased); CNP member, James Robison; charter CNP member, D. James Kennedy, author and pastor of Coral Ridge Presbyterian Church in Ft. Lauderdale, Florida, (deceased); Paul Crouch, TBN Network's infamous founder; Hal Lindsey and Jimmy Swaggart. This certainly is an agenda of social activism which makes for strange ecumenical bedfellows."
I received an email from the attorney for Jimmy Swaggart Ministries stating Jimmy had never been involved with Sun Myung Moon or Dominionism, and had, in fact, exposed same. Researcher Sarah Leslie, who had been a guest on Francis Swaggart's show (Francis and Friends) many times between 2000-2005 told me had discussed these very subjects on air.
The attorney asked me where I found the information and wanted me to retract Swaggart's name from my statement. I removed Swaggart's name from Part 4 of this series, and I explained to the attorney that the information is on many valid websites and to do her own research. However, my thanks goes to another researcher who reminded me that the statement is also on page 69 in Sara Diamond's book, Spiritual Warfare. Since I have the book, I pulled it off my library shelf, and there was the original statement.
Sara Diamond is the author of four books that study and expose the agenda and tactics of the American political neo-conservative rightwing. She has her PhD in sociology from UC Berkeley as well as her J.D. from Hastings College of Law.
The Bancroft Library at U.C. Berkeley maintains the Sara Diamond Collection on the U.S. Right, an archive of the materials she assembled about the neo-conservative movement in the United States. University publications have described it as one of the largest collections of its type in the country.
Earlier researchers into the Moon/Dominion right may have thought all televangelists were involved, yet some were not. Nevertheless, I have found Sara Diamond's books to be well documented and referenced, and would suggest Swaggart Ministries contact Sara Diamond as she is the original and documented source of my statements in Part 4 of this series.
In Part 15 of this series, we'll take a look at the cultist Sun Myung Moon's connection to the Council for National Policy and the Heritage Foundation.
Click here for part -----> 1, 2, 3, 4, 5, 6, 7, 8, 9, 10, 11, 12, 13, 14, 15, 16,
© 2014 Kelleigh Nelson - All Rights Reserved
---
Kelleigh Nelson has been researching the Christian right and their connections to the left, the new age, and cults since 1975. Formerly an executive producer for three different national radio talk show hosts, she was adept at finding and scheduling a variety of wonderful guests for her radio hosts. She and her husband live in Knoxville, TN, and she has owned her own wholesale commercial bakery since 1990. Prior to moving to Tennessee, Kelleigh was marketing communications and advertising manager for a fortune 100 company in Ohio. Born and raised in Chicago, Illinois, she was a Goldwater girl with high school classmate, Hillary Rodham, in Park Ridge, Illinois. Kelleigh is well acquainted with Chicago politics and was working in downtown Chicago during the 1968 Democratic convention riots. Kelleigh is presently the secretary for Rocky Top Freedom Campaign, a strong freedom advocate group.
Website: www.rockytopfreedom.com
E-Mail: Proverbs133@bellsouth.net
---