By Rodney Stubbs
July 13, 2004
NewsWithViews.com
John Kerry is GREEN and promises to "partner" with Bruce Babbit; and, the so-called non-profit organizations, Environment2004 a subset of MoveOn.org are not allowed to have direct ties to a political campaign according to McCain-Finegold Election reform act, but the Democrats refuse to enforce their own law.
If Bush is doing what Kerry alleges is being done to the National Park Service that is further evidence that Bush is opposed to the Democrats New World concept of governance.
Add this to Bush's record in repealing Executive Orders signed by Clinton with regard to the Kyoto Protocol, International Criminal Court, and turning Iraq over to Iraqis to further the concept of sovereignty. Remember that sovereignty is a concept that flies in the face of the United Nations.
The UN, France and Germany did not want Iraq to put an emphasis on sovereignty, because they want to rid all nations of sovereignty to enforce their will on the citizens of the world.
Remember Nadar (Kerry, Dean, and Edwards) want a single election of a President (European model). The vote for the President is split among Greens, Democrats, and Republicans & etc. The Parliament is reformed in accordance with the number of votes the Presidential candidates gains each and every time there is a Presidential election.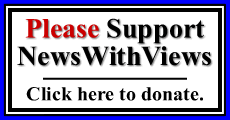 This differs from the American model, because "We the people" not only get to elect a President we also elect Senators (2 per state) and Congressional representatives and a host of State, county and city elective offices. Remember our Nations sovereignty resides at each and every State not at the Federal level of government. These are the checks and balances our Constitution guarantees to preserve our rights as individual citizens.
The Democrats are loosing big time, so it would be in their best interest to change the American voting system so they can create coalitions and take more rights away from Americans. They will never stop until they control the world, even if it means turning America into a Communist state such as is the case in Oregon.
The Directors of the National Park Service under the Clinton administration worked with the United Nations. Those Directors of the National Park Service were given special immunity by Presidential Order to engage while conducting this work to avoid prosecution in the event their work involved the overthrow of the American democracy as we know it today.
The National Park Service is a bold organization and even has the gall to refer to the Mississippi River as the "Nile of the New World." The only word missing "Order." http://www.cr.nps.gov/delta/. Perhaps between now and the National election, President Bush will fire the Directors of the National Park Service, fire Leavitt as the Director of the Environmental Protection Agency, and fire John Turner at the State Department. Only then will freedom loving Americans be able to get a full nights sleep.


� 2004 Rodney Stubbs - All Rights Reserved
Sign Up For Free E-Mail Alerts
E-Mails are used strictly for NWVs alerts, not for sale