CLUELESS JIMMY CARTER
By Geoff Metcalf
April 14, 2008
NewsWithViews.com
"Stupidity talks, vanity acts." --Victor Hugo
Former President Jimmy Carter's latest brain flatulence synthesizes stupidity and vanity.
With age is supposed to come wisdom and gravitas…unless apparently you are a myopic arrogant peanut farmer from Georgia who carries the distinction of being the worst U.S. president in modern history.
Forget the 22% interest rates, 13% inflation, the Iranian hostage debacles, the Soviet invasion of Afghanistan, his creation of the Departments of Energy and Education as Cabinet positions, or his refusal to allow the officer with the nuclear football to be near him, and general 'cluelessness' of the 39th President of the United States…
Former President Carter's reported plans to meet the exiled leader of the militant terrorist group Hamas in Syria is WAY over the top. Hamas and Hezbollah are terrorist organizations committed to routinely pouring gasoline on any and all smoldering embers in the Mideast.
Without naming him, Secretary of State Condoleezza Rice criticized Carter.
"I find it hard to understand what is going to be gained by having discussions with Hamas about peace when Hamas is, in fact, the impediment to peace," Rice said at a press event with German Foreign Minister Frank-Walter Steinmeier.
And Rice is not the 'Lone Ranger.' This is not just a proclamation of neo-con policy dogma. It is an empirical fact: Hamas IS the problem…not even remotely near or interested in a solution.
"Hamas is a terrorist organization," Rice said, repeating the Bush administration's explanation for why it will not meet with members of the group. Duh!?!?
The State Department has already (twice…not once, but TWICE) advised (counseled, recommended, cajoled) Carter against meeting any representative of Hamas. Such a meeting would be a big gift to all terrorists and the first public contact in two years between any prominent American figure and Hamas officials. It would, according to a letter from DEMOCRATS, "confer legitimacy" on a group that embraces and endorses violence.
However, notwithstanding admonitions from the State Department AND a letter from Congressional democrats, Carter apparently intends to flip them all off and drape himself in his 2002 Nobel Peace Prize mantle despite his own party's aggravated angst.
As if Democrats didn't have enough problems between the warring presidential wannabes and serial gaffes of their other posturing former U.S. president, Carter has refused to accept overwhelming facts, advice and counsel that would impede him from another foray into international photo opportunism.
Here is another unsolicited gift from the democrats to their septuagenarian rival in November.
Several Democratic members of the House apparently plan to forward a letter to Carter Monday urging him to reconsider his scheduled meeting with leaders of Hamas during his next visit to the Middle East. Reps. Artur Davis of Alabama, Shelley Berkley of Nevada, Adam Schiff of California and Adam Smith of Washington state asked Carter to drop the planned meeting.
The letter said "we believe that your efforts to forge peace in the region will be overshadowed by this meeting." It said Carter's meeting could "confer legitimacy" on a group that embraces violence.
Barack Obama's pledge to meet with Iran's president, Ahmadidijad is strategically a bad idea. However, at least the neophyte Obama seeks to meet with the President of another country. Carter ought to know better. The fact that he either doesn't comprehend the import of meeting with terrorist leaders suggests either his reasoning is impaired or he flat out doesn't care about gifting terrorists with a humongous public relations gift.
Carter is a graduate of the U.S. Naval Academy at Annapolis and yet he seems intent on not only insulting the core values of his classmates and country, but jazzed with a misplaced hubris that he, and he alone, can mitigate the fundamental terrorist dogma of an organization committed to destroying the very essence of Duty, Honor, Country that remains integral to our military.
Former House Speaker New Gingrich accuses Carter of "strategic stupidity," but Carter's sins are worse that stupidity.
Notwithstanding the personal foibles of individual men, all former Presidents carry the life long burden and responsibility of representing 'the office of the president.' It is more than the perception of courtesy that traditionally former presidents defer (or remain silent) on their successor's policies which may contradict their own deep felt opinions.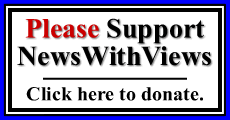 Nixon's paranoid conniving, Bush senior's myopia, Bill Clinton's hound dogging, and even the late Gerald Ford's balance challenges all are trumped by gravitas of 'former President.' It shouldn't matter what former President's do or say beyond history books and academic spade work. But it does…especially on the international geopolitical stage.
Carter's administration and their serial strategic incompetence is history. Better men have tried to mitigate and fix the damage that administration wrought on the world.
Subscribe to the NewsWithViews Daily News Alerts!
The latest Carter book is 'A Remarkable Mother' about his mother, Lillian. Frankly, Carter would be better off promoting the book and abandoning quixotic quests that exceed both his grasp and comprehension.
Once upon a time 'Miss Lillian' (who was a remarkable woman) said, "When I look at my four children sometimes I say to myself, Lillian, you should have stayed a virgin."