PROVEN FACTS & TOOLS REQUIRED FOR CITIZENS TO SAVE THE COUNTRY
PART 1 of 3
By Andrew C. Wallace
June 4, 2008
NewsWithViews.com
You Must Talk Face to Face with Your Congressional Politicians and You Can't Take No, or Spin, for an Answer.
Read this comprehensive outline, and You will be enraged and motivated to act, by the "Uncontestable Truth" of a Comprehensive Treason, so ruthless, so destructive, so heartless that it has already resulted in the death or suffering of millions of Americans. A minimum effort on your part can stop this Bloodshed before you and your family are victims.
The Great Financial Meltdown as evidenced by Failure of the gigantic Bear Stearns financial empire would have caused "Immediate Economic Collapse Nationwide" if the Private Federal Reserve had not guaranteed their obligations which protected other financial corporations from losses caused by their own greed. This was a quick fix with taxpayer money, that further impoverished "We the People," and did not solve the problems.
This was just another result of Uncontrolled Corruption, Greed and Treason on an Unprecedented Scale that also caused the loss of 75% of our manufacturing jobs and four to seven times as many jobs in the service industry. Millions of jobs that could not be exported were filled with exploited illegals and lower paid workers on H-1B Visas. As Collateral Damage, Millions of Americans were either Murdered, Killed, Raped, Robbed, or Molested by illegals allowed to enter and remain in this country for exploitation by corporations and support by taxpayers contrary to our Constitution and laws. There is no compensation for the millions of victims of illegals.
IF THIS IS NOT TREASON, WHAT IS?
All of this Treason has caused the value of our dollar (pensions, savings, IRAs, 401ks, etc) to decline 50% during this administration and now is in free fall causing prices of everything you need to skyrocket out of reach There will be food shortages. The free falling value of our dollar caused by government increased the cost of oil, which in turn caused price of food, fuel and everything else to increase out of the reach of many. Manipulation of production and marketing of food by governments has caused shortages that would not exist in a free market. This was caused by lowering interest rates to banks, government spending, including an estimated total of One Trillion Dollars of our money to bail out Bear Stearns, other banks and financial corporations this year alone. As part of this Perfect Storm of Treason you must add the 346 Billion Dollar annual cost to government of lower wage immigrant workers, both legal and illegal to support corporations (Reported by Edwin Rubinstein). Therefore, you have American taxpayers subsidizing corporations with 1 Trillion, 346 Billion dollars this year alone. In other words every American has been charged approximately $4,486 this year to subsidize corporations that steal our jobs and impoverish us. Add that to the national debt of $30,000 per person and you have real money. No wonder corporations are so generous to our politicians.
Our failed Welfare and Education Systems produce an unlimited supply of uneducated people for low paying jobs who will always cost us more than they contribute, just like the illegals.
Building on NAFTA, President Bush signed an Accord with Mexico and Canada on March 23, 2005 to institute the Security and Prosperity Partnership of North America as an initial step toward their merger into a new nation called the North American Union. The Ultimate Objective is to replace the United States of America and our freedoms, with the North American Union and slavery, dominated by a Corporate One World Government. This is the real reason for gun control. Leaders of both Democrat and Republican Parties along with their corporate masters are guilty of a Bloody and Monstrous Betrayal of "We the People" second only to the one by Judas Iscariot.
This Great Tragedy is caused by ruthless, greedy and power mad Enemies of the People, Collectively, Descriptively and Accurately called the "Chain of Command for Treason" CCT which consists of the Wealthy Elites, and their Tax Free Foundations who own the media and control the Corporations that pay and rule the Government Traitors in both political parties. Corporations and foundations are being used as part of an anti-American Criminal Conspiracy. Marion Hammer, past president of NRA said "Unlike citizens, corporations are discretionary creations of government" and "don't override the constitutional rights of law abiding citizens."
When compared to the CCT, the Islamic Terrorists are a second class enemy who may kill a few million of us, but the CCT (enemy within) will destroy America and its financial ability for self defense
IT IS AN ABSOLUTE, OBSERVABLE FACT THAT LEADING PRESIDENTIAL CANDIDATES, LEADERS OF BOTH POLITICAL PARTIES, MANY GOVERNMENT OFFICIALS AND THEIR ASSOCIATES IN THE CCT ACTIVELY ADVOCATE, PRACTICE AND SUPPORT TREASON RESULTING IN DEATH AND IMPOVERISHMENT OF AMERICANS FOR POWER, MONEY AND DESTRUCTION OF THE UNITED STATES OF AMERICA.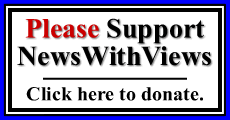 Our only viable choice now at the local level is to meet politicians in person, and elect those who have signed our written demands to serve "We the People" rather than leaders in the Chain of Command for Treason, CCT. There is one other more difficult option as reported by Dr. Edwin Vieira, Jr. revitalizing "the militia of the several states." Our Constitution stipulates that militia conforming to the Constitution is "essential to the security of a free state" and empowered and required by the constitution itself to "execute the laws of the Union."
Subscribe to the NewsWithViews Daily News Alerts!
You have just read a concise and comprehensive outline of the most dastardly Treason in history that will force you to live and die hungry and in pain as a slave of the new corporate One World Order. It is impossible for anyone to use proven facts and arrive at a different conclusion. You now have the big picture and the details follow in the next part. The third part gives you more information and the written tools to convince your congressional politicians of both parties to be patriots, rather than bought and paid for by traitors. For part two click below.
Click here for part -----> 1, 2, 3,
� 2008 Andrew Wallace - All Rights Reserved