ZENITH 2016: DID SOMETHING BEGIN IN 2012?
PART 2
By Thomas R. Horn
June 4, 2013
NewsWithViews.com
It's been assumed for centuries that a prerequisite for the coming of Antichrist would be a "revived" world order—an umbrella under which national boundaries dissolve and ethnic groups, ideologies, religions, and economics from around the world orchestrate a single and dominant sovereignty.
At the head of the utopian administration, a single personality will surface. He will appear to be a man of distinguished character, but will ultimately become "a king of fierce countenance" (Daniel 8:23). With imperious decree, he will facilitate a One-World Government, universal religion, and global socialism. Those who refuse his New World Order will inevitably be imprisoned or destroyed until at last he exalts himself "above all that is called God, or that is worshiped, so that he, as God, sitteth in the temple of God, showing himself that he is God" (2 Thessalonians 2:4).
For many years, the notion of an Orwellian society where One World Government oversees the smallest details of our lives and in which human liberties are abandoned was considered anathema. The idea that rugged individualism would somehow be sacrificed for an anesthetized universal harmony was repudiated by America's greatest minds. Then, in the 1970s, things began to change. Following a call by Nelson Rockefeller for the creation of a "New World Order," presidential candidate Jimmy Carter campaigned, saying, "We must replace balance of power politics with world order politics." This struck a chord with international leaders, including President George Herbert Walker Bush, who in the 1980s began championing the one-world dirge, announcing over national television that the time for a "New World Order" had arrived. The invasion into Kuwait by Iraq/Babylon provided perfect cover for allied forces to engage the Babylonian "prince" by launching Desert Storm against Saddam Hussein's forces, an effort Bush made clear was "to forge for ourselves and for future generations a New World Order…in which a credible United Nations can use its…role to fulfill the promise and vision of the U.N.'s founders." Following this initial statement, Bush addressed the Congress, adding:
What is at stake is more than one small country [Kuwait], it is a big idea—a New World Order, where diverse nations are drawn together in common cause to achieve the universal aspirations of mankind.… Such is a world worthy of our struggle, and worthy of our children's future…the long-held promise of a New World Order.[i]
Ever since the President's astonishing newscast, the parade of political and religious leaders in the United States and abroad pushing for a New World
Order has multiplied. Britain's Prime Minister Tony Blair, in a speech delivered in Chicago, said frankly, "We are all internationalists now, whether we like it or not." Blair could barely have imagined how quickly his doctrine would catch on. By December 9, 2008, respected chief foreign affairs columnist for The Financial Times, Gideon Rachman (who attended the 2003 and 2004 Bilderberg meetings at Versailles, France, and Stresa, Italy), admitted, "I have never believed that there is a secret United Nations plot to take over the U.S. I have never seen black helicopters hovering in the sky above Montana. But, for the first time in my life, I think the formation of some sort of world government is plausible." The United Kingdom's Gordon Brown not only agreed, but in an article for The Sunday Times, March 1, 2009, said it was time "for all countries of the world" to renounce "protectionism" and to participate in a new "international" system of banking and regulations "to shape the twenty-first century as the first century of a truly global society." On January 1, 2009, Mikhail Gorbachev, the former head of state of the USSR, said the global clamor for change and the election of Barack Obama was the catalyst that might finally convince the world of the need for global government. In an article for the International Herald Tribune, he said:
Throughout the world, there is a clamor for change. That desire was evident in November, in an event that could become both a symbol of this need for change and a real catalyst for that change. Given the special role the United States continues to play in the world, the election of Barack Obama could have consequences that go far beyond that country.…
If current ideas for reforming the world's financial and economic institutions are consistently implemented, that would suggest we are finally beginning to understand the important of global governance."
Four days later, on January 5, 2009, the chorus call for a New World Order was ramped up again by former Secretary of State Henry Kissinger while on the floor of the New York Stock Exchange. A reporter for CNBC asked Kissinger what he thought Barack Obama's first actions as president should be in light of the global financial crises. He answered, "I think that his task will be to develop an overall strategy for America in this period, when really a New World Order can be created." Kissinger followed on January 13 with an opinion piece distributed by Tribune Media Services titled "The Chance for a New World Order." Addressing the international financial crises inherited by Barack Obama, Kissinger discussed the need for an international political order (world government) to arise and govern a new international monetary and trade system. "The nadir of the existing international financial system coincides with simultaneous political crises around the globe," he wrote. "The alternative to a new international order is chaos." Kissinger went on to highlight Obama's extraordinary impact on the "imagination of humanity," calling it "an important element in shaping a New World Order."[ii] Kissinger—a Rockefeller functionary and member of the Bilderberg group and Trilateral Commission who routinely turns up in lists among senior members of the Illuminati—peppered his article with key phrases from Masonic dogma, including the comment about the "alternative to a new international order is chaos," a clear reference to "ordo ab chao" from ancient Craft Masonry, a reference to the doctrine of "order out of chaos." Like the mythical phoenix firebird, Kissinger visualized the opportunity for a New World Order to be engineered from the ashes of current global chaos, exactly the point he had made years earlier at the Bilderberger meeting in Evian, France, on May 21, 1991, when describing how the world could be manipulated into willingly embracing global government. He said:
Today Americans would be outraged if UN troops entered Los Angeles to restore order; tomorrow they will be grateful! This is especially true if they were told there was an outside threat from beyond, whether real or promulgated, that threatened our very existence. It is then that all peoples of the world will plead with world leaders to deliver them from this evil. The one thing every man fears is the unknown. When presented with this scenario, individual rights will be willingly relinquished for the guarantee of their well being granted to them by their world government.[iii]
During his second inaugural address, U.S. President George W. Bush likewise envisioned the specter of a Babylonian-like, one-world government. With an almost religious tone, he cited Masonic script, saying, "When our Founders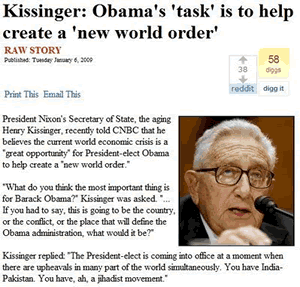 declared a new order of the ages…they were acting on an ancient hope that is meant to be fulfilled."[iv] New Age guru Benjamin Creme was clearer still on how the marriage of politics and religion would epitomize the New World Order when he said some years ago, "What is the plan? It includes the installation of a new world government and a new world religion under Maitreia" (Maitreia is a New Age "messiah").[v] Five-time United States senator from Arizona and Republican presidential nominee in 1964, Barry Goldwater, likewise foresaw the union of politics and religion as a catalyst for global government. In writing of the efforts of behind-the-scenes groups, including international bankers, to bring about a New World Order, he said it would occur through consolidating "the four centers of power—political, monetary, intellectual, and ecclesiastical." As the managers and creators of the new (prophetic) system, this power elite would "rule the future" of mankind, he believed.[vi] So concerned was Goldwater with the consolidation of government policy and religious creed that on September 16, 1981, he took the unique position of warning political preachers from the floor of the U.S. Senate that he would "fight them every step of the way if they [tried] to dictate their [religious ideas] to all Americans in the name of conservatism." The increasing influence of the Religious Right on the Republican Party was bothersome to Goldwater in particular because of his libertarian views. It should have concerned theologians as well, and I say this as a man often associated with the Religious Right. Combining religious faith with politics as a legislative system of governance hearkens the formula upon which Antichrist will come to power. (Note how in the book of Revelation, chapter 13, the political figure of Antichrist derives ultra-national dominance from the world's religious faithful through the influence of an ecclesiastical leader known as the False Prophet.) Neither Jesus nor His disciples (who turned the world upside down through preaching the gospel of Christ, the true "power of God," according to Paul) ever imagined the goal of changing the world through supplanting secular government with an authoritarian theocracy. In fact, Jesus made it clear that His followers would not fight earthly authorities purely because His kingdom was "not of this world" (John 18:36). While every modern citizen—religious and non-religious—has responsibility to lobby for moral good, combining the mission of the church with political aspirations is not only unprecedented in New Testament theology—including the life of Christ and the pattern of the New Testament church—but, as Goldwater may have feared, a tragic scheme concocted by sinister forces to defer the church from its true power while enriching insincere bureaucrats, a disastrous fact that only now some are beginning to understand.
Behind these scenes and beyond view of the world's uninitiated members, the alchemy and rituals of the occult masters—Illuminatists, Masons, Bonesmen, Bilderbergers, and Bohemians—have combined to harmonize so completely within recent U.S. foreign and domestic policies as to clearly point to a terrifying Sibyl's conjure, a near-future horizon upon which a leader of indescribable brutality will appear. Although this false prince of peace will seem at first to hold unique answers to life's most challenging questions, ultimately he will make the combined depravities of Antiochus Epiphanes, Hitler, Stalin, and Genghis Khan, all of whom were types of the Antichrist, look like child's play. He will raise his fist, "speaking great things…in blasphemy against God, to blaspheme his name, and his tabernacle, and them that dwell in heaven" (Revelation 13:5–6). He will champion worship of the "old gods" and "cause that as many as would not worship the image of the beast should be killed" (Revelation 13:15), and he will revive an ancient mystery religion that is "the habitation of devils, and the hold of every foul spirit, and a cage of every unclean and hateful bird" (Revelation 18:2).
Nevertheless, the world is readied—indeed, hungry for—a political savior to arise now with a plan to deliver mankind from upheaval.
Enter the Era of Obama
Should the world continue, historians will undoubtedly record how the messianic fervor surrounding the election of the forty-fourth president of the United States reflected not only widespread disapproval for Bush administration policies, but how, in the aftermath of September 11, 2001, the American psyche was primed to accept expansive alterations in political and financial policy with an overarching scheme for salvation from chaos. Among these historians, a few will undoubtedly also argue that, as National German Socialists did in the years following World War I, Barack Hussein Obama appealed to the increasingly disenfranchised voters among American society by playing on their understandable fears in order to posture himself as the essential agent of change. What most of these historians are not likely to record, however, is the involvement before and after the 2008 U.S. presidential election by unseen shapers of the New World Order. If they did, the vast numbers of people would not believe it anyway, the idea that behind the global chaos that gave rise to Obama's popularity was a secret network, a transnational hand directing the course of civilization. Yet no account of history including recent times is complete or even sincere without at least acknowledging the behind-the-scenes masters who manipulate international policy, banking and finance, securities and exchange, trade, commodities, and energy resources. Numerous works, including scholarly ones, have connected the dots between this ruling "superclass" and the integration of policy handed down to governing bodies of nation-states and supra-national organizations.
The Economist newspaper in the year of Obama's first election as President of the United States pointed to research by academic David Rothkopf, whose book, Superclass: The Global Power Elite and the World They Are Making,
documented how only a few thousand people worldwide actually dictate the majority of policies operating at a global scale. The Economist described this comparatively small number of elites as being "groomed" in "world-spanning institutions…[who] meet at global events such as the World Economic Forum at Davos and the Trilateral Commission or…the Bilderberg meetings or the Bohemian Grove seminars that take place every July in California."[vii] In 2011, a Swiss Federal Institute (SFI) study showed less than one-hundred and fifty technocratic "Super Entities"—mainly banks and the families that own them—control 40% of the world's wealth. Long-time radio host and author of Brotherhood of Darkness, Stanley Monteith, says such persons are part of an "occult hierarchy" that rules the world and directs the course of human events. "The movement is led by powerful men who reject Christianity, embrace the 'dark side,' and are dedicated to the formation of a world government and a world religion," he writes. "They control the government, the media…many corporations, and both [U.S.] political parties."[viii]
Interestingly, Emeritus Pope Benedict XVI may have referred to the same group when, in 2008, he warned United Nations diplomats that multilateral consensus needed to solve global difficulties was "in crisis" because answers to the problems were being "subordinated to the decisions of the few." His predecessor, Pope John Paul II, may have acknowledged the same, believing a One-World Government beneath the guidance of a ruling superclass was inevitable. Before his death, it was prominent American political scientist Samuel P. Huntington who brought the uber-echelon behind the push for global government up from "conspiracy theory" to academic acceptability when he established that they "have little need for national loyalty, view national boundaries as obstacles that thankfully are vanishing, and see national governments as residues from the past whose only useful function is to facilitate the elite's global operations."[ix] In other words, according to experts, international affairs, foreign and domestic politics, and taxpayer-funded investment economics are being largely decided by a privileged cadre of families who are dedicated to a New World Order and One-World Government.
I have to admit that, when writing the first edition of Apollyon Rising 2012 in 2009 (greatly expanded to a new book, soon to be released titled ZENITH 2016: Did Something Begin In 2012 That Will Apex In 2016?), it was difficult to resist the temptation to compile at length the names, dates, and organizations that form the goals of the ruling elite. Having accumulated thousands of pages of research material concerning the CFR, the Trilateral Commission, the Bohemians, the Masons, the Bilderbergers, and other Illuminatus subgroups, my original intention included several chapters on the memberships past and present of the largely unknown powers working behind public affairs. In the end, I determined that enough of this type material is already available to the public, and that this book would be better served in raising awareness—beyond the machinations of financiers and occult ideologues who direct global institutions—by showing that behind their matrix of illusion—which most citizens perceive as reality—is an arena of evil supernaturalism under which these human "conduits" are willingly organized. In more than thirty important biblical texts, the Greek New Testament employs the term kosmos, which describes an invisible order or "government behind government." It is here that human ego, separated from God, becomes hostile to the service of mankind while viewing people as commodities to be manipulated in the ministration of fiendish ambition. To some, the origins of this phenomenon began in the distant past, when a "fire in the minds" of angels caused Lucifer to exalt himself above the good of God's creation. The once-glorified spirit was driven mad by an unequivocal thirst to rule, conquer, and dominate. His fall spawned similar lust between his followers, which continues today among human agents of dark power who guard a privileged "cause-and-effect" relationship between diabolical forces and the opportunity for lordship over societies.
The objectives of the secret orders and the very real forces they serve are seldom perceived by citizens of democratic societies who choose to believe national officials actually rule their countries and represent their interests. Yet according to sacred texts, not only does an active collaboration exist between unregenerate social architects and fallen angels, but politicians in particular are vulnerable to "principalities and powers." According to well-known exorcist Gabriele Amorth, who has performed more than seventy thousand official exorcisms, "Evil exists in politics, quite often in fact. The devil loves to take over…those who hold political office."[x] As a result, it is not difficult to see how "fleshy gloves" such as U.S. presidents may be unaware of their role as chess pieces on a terrestrial game board sliding in and out of position as they are moved by "the god of this world" toward the phantasmogoric end game (see 2 Corinthians 4:4). If researchers like Dr. Monteith are correct, and world governments are to this day influenced by such dark angelic powers, the elite who head the current push to establish a New World Order are directly connected with an antichrist system whether they know it or not. With vivid testimony to this, Satan offered to Jesus all the power and glory of the kingdoms of this world. He said, "All this power [control] will I give thee, and the glory of them [earthly cities]: for that is delivered unto me: and to whomsoever I will I give it. If thou therefore wilt worship me, all shall be thine" (Luke 4:6–7).
Signs and evidence of such supernatural involvement in the current move towards worldwide totalitarian government have been increasing in political commentary, occult symbolism, and numerological "coincidences" over the past decade. As public opinion is engineered toward final acceptance of the international subordination, we would expect to see these "mirrors of occult involvement" continue. Recently, there have been so many semiotic messages (visible signs and audible references that communicate subliminal ideas) in the open that it is starting to feel as if the "gods" are mocking us, challenging whether or not we will willingly admit their involvement.
Subscribe to the NewsWithViews Daily News Alerts!
This has been exponentially true since the election of U.S. President Barack Hussein Obama, the "President of the World," according to news services around the planet in 2008. While the grandiose title "President of the World"—granted Obama by euphoric crowds on that election night—remains to be prophetic, the glorified ideal behind it reflects the global hunger for and movement toward the arrival of "the one" who represents the invisible agencies mentioned above and who, for a while, will appear to be the world's answer man.
Still... what most are blind to... is what began in 2012 that will reach its Zenith in 2016. Is it no coincidence that the Vice President of the United States recently called for the creation of "the New World Order."
Coming up next - Obama as Messiah?
(all endnotes will be included in the final entry)
Click here for part -----> 1, 2, 3,
© 2013 Thomas Horn - All Rights Reserved
---
Thomas Horn is the CEO of RaidersNewsUpdate.com and SurvivorMall.com.
Over the last decade, he has authored three books, wrote dozens of published editorials, and had several feature magazine articles. In addition to past articles at NewsWithViews.com , his works have been referred to by writers of the LA Times Syndicate, MSNBC, Christianity Today, Coast to Coast, World Net Daily, White House Correspondents and dozens of newsmagazines and press agencies around the globe. Tom's latest book is "The Ahriman Gate," which fictionalizes the use of biotechnology to resurrect Biblical Nephilim.
Thomas is also a well known radio personality who has guest-hosted and appeared on dozens of radio and television shows over the last 30 years, including "The 700 Club" and "Coast to Coast AM." When looking for a spokesperson to promote their film "Deceived" staring Louis Gossett Jr. and Judd Nelson, "Cloud 10 Pictures" selected Thomas as their spokesperson to explain the Christian viewpoint on UFO-related demonology.
Web Site: RaidersNewsUpdate.com

E-Mail: RaidersNewsUpdate@gmail.com
---