FDA PULLS DMSA AND HOPE FROM CHILDREN WITH AUTISM AND ADHD
By Dr. Stephen C. L'Hommedieu, DC
January 17, 2009
NewsWithViews.com
Random acts of violence are usually considered methods of the weak, but a long history of FDA political violence directed against public health safety and our freedom to obtain dietary supplements reveals something more calculated and oppressive. The results of FDA actions are obvious: Our right to choose safe health care alternatives and abstain from questionable medical practices is increasingly met with fierce opposition. The consequences are equally obvious as we helplessly witness a relative epidemic of Autism Spectrum Disorder (ASD) and Attention Deficit Hyperactivity Disorder (ADHD) ravaging our children.
Destitute of any original purpose, the FDA is deeply immersed in its filth of corruption catering to the special interests of the Pharmaceutical Cartel and the AMA. It is specifically called to intimidate, oppress, and eliminate any significant public awareness of and access to specialized dietary supplements, nutritional health information, qualified independent scientific studies, and alternative therapies that could undermine pharmaceutical profits and public confidence in conventional medical treatments. If you think this is an exaggeration consider then even many of the FDA's own scientists are in disgust over their corrupt managers who "coerce FDA experts to modify their scientific views, conclusions, and recommendations in violation of law."
FDA Backhanded "Legal" Action
Operating true to its agenda, our health freedom is under another "legal" attack. Now it's to dismantle the threat of the many health-promoting benefits provided by various chelating therapies. The latest on the FDA hit list is a dietary supplement known as DMSA. The FDA initiated action with a letter of warning to Enrico Liva, the president of Vital Nutrients, directing him to stop selling DMSA or suffer legal consequences. You can read this letter in its entirety on the FDA website. For some interesting insight into FDA pressure tactics you can read FDA Running Extortion Racket.
What is particularly disturbing is how the FDA abruptly retracted the long-standing dietary supplement status of DMSA. Their new position is DMSA is a drug but not a dietary supplement, even though it has been sold as a dietary supplement for at least 14 years since the passing of the Dietary Supplement Health and Education Act (DSHEA) in 1994. It is true DMSA is also considered a drug, which was approved for protection under the Orphan Drug Act in January 1991. Under the FDA's curious sudden shift of position, Vital Nutrients was no longer permitted to "legally" sell DMSA or provide factually correct information about intended uses on their website since it would apply to "conditions that are not amenable to self-diagnosis and treatment by individuals who are not medical practitioners." The FDA also considered Vital Nutrients' website to be in violation of numerous other product descriptions indicating their usefulness for disease treatment and prevention.
Unfortunately, Vital Nutrients may have provided the window of opportunity needed for the FDA to subtly snatch DMSA off the shelf, which was probably the intended target from the onset. Those among the numerous "drug-like" supplements such as Co Q10 and glucosamine sulfate, meaning their indications for use were described as treating and preventing various medical conditions, had only their health claims removed. DMSA, however, was pulled altogether.
What Is DMSA?
DMSA (meso-2,3-dimercaptosuccinic acid or succimer) is one of a group of sulfur-containing chelating compounds known as dithiols. Other related dithiols are DMPS (sodium salt of 2,3-dimercapto-1-propane sulfonic acid) and BAL (British Anti-Lewisite or dimercaprol). Since the 1950's DMSA has been an effective treatment for lead and mercury poisoning, and was approved in 1991 for pediatric lead poisoning. Of the three dithiols mentioned DMSA has many advantages without the drawbacks of toxicity and redistribution of toxic elements to other organs and tissues.
One of the main advantages of DMSA is its large therapeutic window. This means there is a wide margin between the amount necessary to produce the intended result and the level that could potentially overload the patient. This makes DMSA exceptionally safe under the supervision of a licensed health care practitioner. To this day I am not aware of any adverse event report noting any deaths associated with the use DMSA. DMSA is then even far safer than acetaminophen (Tylenol), which is responsible for 500 deaths per year and pharmacological atrocities such as Vioxx that is believed to have claimed the lives of an estimated 89,000 to 140,000 US citizens.
Another great advantage of DMSA is its specificity for heavy metals such as lead, mercury, cadmium, gold, platinum, thallium, barium and strontium. Although DMSA has the ability to chelate (bind to) half of the elements on the Periodic Table, it is this specificity for heavy metals where it truly shines. I know of no other chelating agent that works so effectively for supporting patients with heavy metal induced health disorders than DMSA.
What's more, DMSA is more effective at supporting neurological disorders. Unlike DMPS and BAL, DMSA has the ability to cross the blood-brain barrier. Studies on mice have demonstrated this special application. Although some references will claim it doesn't cross the blood-brain barrier in humans, consider the fact that the FDA approved DMSA for removing lead from the brains of children. Lead has a very high affinity for brain tissue, inhibiting enzymes needed for neurotransmitters resulting in hyperactivity and epilepsy, similar in effect to other heavy metals, such as mercury. Other associated brain and psychological conditions induced by lead toxicity include abnormal brain function, anxiety, poor concentration, mental depression, hallucinations hyperkinesis, mental retardation, psychotic behavior, and schizophrenia to mention a few.
What Prompted Sudden FDA Action?
Why is the FDA suddenly withdrawing availability of this dietary supplement from the public and non-medical health care practitioners? Why now after at least 14 years? Had some mistaken identity issue eluded them all this time? Is DMSA now a danger to the public? To shed some light on what may be the real reasons behind this abrupt status change requires some courage to look beyond the FDA legal spin.
One of the most significant, controversial, and emotionally charged health issues at the forefront of public and media attention concerns the epidemic rise of ASD and ADHD in our children. Yes, I've already heard. There really isn't an epidemic ASD and ADHD; it's just due to better diagnoses. Well, whether it is due to an epidemic of "better" medical diagnoses or an epidemic of grossly excessive vaccination schedules, the fact remains that the families of the one out of every 150 children who have some form ASD have child care, emotional, psychological, and financial burdens unrelated to a "new and improved" medical diagnosis.
Parents enraged by FDA dismissal of what can only be categorized as vaccine-induced onset disorders are now boldly stepping forward publicly. They share similar experiences and growing concern over vaccine safety and the undeniable link to vaccine-induced onset of symptoms occurring within hours to days, and even several weeks, after vaccinating. Since nationally recognized celebrity Jenny McCarthy publicly acknowledged her experience with their ASD child with decisive effect, a greater portion of the uninformed public is now beginning to put the pieces together for themselves. You may want to visit McCarthy's very informative website called Generation Rescue. It could help empower you to begin thinking for yourself about what is really transpiring.
All of this is not good news for the FDA, the Pharmaceutical Cartel and the AMA. In spite of public pressure, they have all but dismissed any correlation between ASD and ADHD relative to being vaccine-induced. Instead, every effort is made to intimidate or silence those who have observed similar onsets of symptoms. The CDC is especially vigilant (never speak the "V" word and autism in the same sentence) with their presence noted on programs such as Oprah to make sure the public is steered clear of any "misunderstandings" and "anecdotal" evidence from the numerous medically unqualified and unscientific sources: the parents of these children.
What's the DMSA connection? The connection is to a mercury-containing constituent called thimerosal still used in a number of vaccines as a preservative. Thimerosal has been hot in the limelight as one of the major triggers for the onset of ASD, ADHD, SMA and other vaccine-induced behavioral and autoimmune disorders. As with lead, DMSA has a very high affinity for mercury, which can play an important role for its removal and control over these induced health disorders.
So the familiar pattern of FDA corruption continues with another "random" act of violence. Now they are hastily working under legal pretense to completely pull DMSA accessibility from the public and non-medical health care practitioners. The strategy appears obvious: to prevent parents from gathering overwhelming "anecdotal" evidence that would correctly and consistently implicate mercury in vaccines as a potential health disaster. Dumbing-down public awareness is essential for the proliferation of unnecessary and potentially harmful vaccines such as Hepatitis B, a thimerosal-containing vaccine now routinely administered to infants (VAERS Analysis). An uninformed public is the key to successfully relinquishing parental control over their children's health care.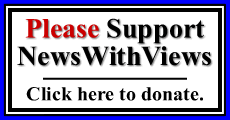 Keep in mind; even though thimerosal can often act as a trigger to induce these types of disorders, it is only one of many toxic substances capable of inducing the same effects. I have occasionally seen children with neurological/behavioral disorders that never received a vaccine. However, most often there will be toxic metal and/or chemical involvement relating to some type of exposure occurring prior to the development of symptoms. To the FDA's advantage, this demonstrates the ambiguity behind the cause of disorders such as ASD and ADHD. Thus, it enables FDA officials to easily weasel out from underneath incriminating scientific evidence supporting the serious risks vaccines impose and then confuse parents with their ingenious waffling of the facts.
Subscribe to the NewsWithViews Daily News Alerts!
If we are to have any hope of saving the physical minds of our children, we need to begin saving what is left of the thinking minds of the parents. It would benefit many parents and their families to become informed about vaccine safety and aware of the corruption controlling their health care choices. Educate yourselves to important beneficial alternatives. When properly administered by an experienced licensed health care practitioner, DMSA is certainly at the top of the list of those beneficial alternatives.
� 2009 - Dr. Stephen C. L'Hommedieu - All Rights Reserved