WASHINGTON'S CULTURE OF DECEPTION
By Chuck Baldwin
May 30, 2008
NewsWithViews.com
A bomb exploded inside Washington, D.C., this week, and, no, it was not the work of a Middle Eastern terrorist. It was the work of former White House Press Secretary Scott McClellan. He, perhaps more than anyone else, was the face of President Bush's White House. He faithfully served President George W. Bush for close to a decade and served as Bush's Press Secretary for some three years, resigning on April 19, 2006. He was also regarded as one of the most loyal and tight-lipped of the Bush insiders. However, his new book, "What Happened: Inside the Bush White House and Washington's Culture of Deception" has exploded in the face of what history will probably regard as one of the most deceptive and manipulative Presidential administrations in American government. The Washington Post (and a host of other media) released a report regarding McClellan's book this past Wednesday.
According to McClellan's book, the Iraq war was sold to the American people with a sophisticated "political propaganda campaign" led by President George W. Bush himself. McClellan charges that Bush aimed at "manipulating sources of public opinion" and "downplaying the major reason for going to war." He also says he was deceived by some within the President's inner circle about the leak of a CIA operative's name.
He has especially harsh criticism for former White House advisor Karl Rove for misleading him about his role in the CIA case. He also accused Secretary of State Condoleezza Rice of being "deft . . . at protecting her reputation," and called Vice President Dick Cheney "the magic man" who steered policy behind the scenes.
In a chapter titled "Selling the War," McClellan says the administration repeatedly "shaded the truth." He also stated, "In the permanent campaign era, it was all about manipulating sources of public opinion to the president's advantage." In what might be the most disturbing statement in the book (at least among those that were released by press reports), McClellan said, "What I do know is that war should only be waged when necessary, and the Iraq war was not necessary."
McClellan said his motive for writing the book was this: "Like many Americans, I am concerned about the poisonous atmosphere in Washington. I wanted to take readers inside the White House and provide them an open and honest look at how things went off course and what can be learned from it. Hopefully in some small way it will contribute to changing Washington for the better and move us beyond the hyper-partisan environment that has permeated Washington over the past 15 years."

Advertisement
I am confident the reaction that will spew forth from both sides of the political aisle will simply reinforce McClellan's basic assertion. Republicans will attempt to impugn McClellan's credibility, while Democrats will shout, "We told you so!"
In previous columns, I have written much regarding the poison of deception that emanates from Washington, D.C., which is mostly due to the preoccupation with political partisanship. It seems the only time the Republican and Democratic parties care about "ethics" and "honesty" is when it condemns the other party. Otherwise, life in Washington, D.C., is exactly as McClellan describes it: a culture of deception.
McClellan's book will be a bitter pill to swallow. To think that the war in Iraq was "unnecessary" creates angst and even anger in the meekest of men. Yet, how many times have governments spent the lives and fortunes of their people for causes and reasons that historians would later judge to be "unnecessary"? It might even be safe to say that most of history's wars have been "unnecessary."
The propensity of rulers to engage in war for personal, transient, or even adolescent purposes is exactly why America's Founding Fathers created a constitutional republic in this country. In America, the Constitution--not the President, Congress, or even the Supreme Court--is the Supreme Law of the land. Each branch of government is to remain separate from the other, and no branch is supposed to be able to run roughshod over the other. It is fidelity to constitutional government that forms the vanguard of our liberty, not to mention our safety.
This is why our President and members of Congress take an oath to preserve, protect, and defend the Constitution of the United States. They are not sworn to uphold the will of party bosses or special interest groups, or even the whim of the people. They are required to uphold the Constitution.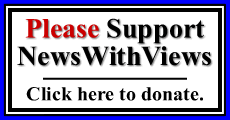 Sadly, America's civil magistrates (especially at the federal level) have been ignoring the Constitution for much of the 20th Century, and--for the most part--still ignore the Constitution today. And it has not mattered to a tinker's dam which party has been in power. Both major parties are equal opportunity violators of the Constitution.
None of us (including this writer) wants to believe that McClellan's bold assertion is true. None of us wants to believe that we are spending trillions of hard-earned tax dollars and sending thousands of brave soldiers and Marines (not to mention tens of thousands of Iraqis) to their deaths "unnecessarily." I sincerely pray that McClellan is wrong about that.
Subscribe to the NewsWithViews Daily News Alerts!
One thing I do believe to be true, however, is this: Unless the American people begin demanding that their civil magistrates uphold their oaths to the Constitution, and until the American people rid themselves of this blind loyalty to the two major political parties, we are going to be continually subjected to "Washington's Culture of Deception."
*If you enjoyed this column and want to help me distribute these editorial opinions to an ever-growing audience, donations may now be made by credit card, check, or Money Order. Use this link.
� 2008 Chuck Baldwin - All Rights Reserved