OPEN BORDERS PROVE "WAR ON TERROR" IS SUPERFICIAL
By Chuck Baldwin
May 23, 2008
NewsWithViews.com
The American people were led to believe that America's fine men and women in uniform were sent halfway around the world to Iraq and Afghanistan to fight a "war on terror." Of course, everyone now knows that Saddam Hussein had nothing to do with the attacks on September 11, 2001. I am sure that most everyone also remembers that the vast majority of the terrorists who participated in those attacks were from Saudi Arabia, not Iraq. Yet, Saudi leaders continue to enjoy the coziest of relationships--and, dare I say, friendships--with President George W. Bush.
Does anyone besides me remember when Bush said that countries had to decide whether they would be friends with either terrorists or the United States, but that they could not be friends with both? Well, Saudi Arabia has probably financed, supported, and befriended more terrorists in the Middle East than any other nation in the world (except perhaps Red China), yet they continue to be "friends" with the United States.
Another glaring inconsistency regarding the "war on terror" is the fact that for some seven years since the 9/11 attacks, our nation's borders and ports are as open and porous as ever. These open borders make the argument that "we are fighting them over there, so we won't have to fight them over here" look absolutely disingenuous--even laughable.
If foreign terrorists want to bring the fight to America's streets again, they still have plenty of opportunity to do so. In fact, we have no idea how many potential terrorists have already slipped across our borders and are right now living among us. Furthermore, we have no idea how many potential terrorists continue to pour through these wide open sieves that we call borders.
How can this administration look the American people in the eye with a straight face and claim that it is fighting a "war on terror," while it does almost nothing to secure our borders and ports? As Marcellus said in Shakespeare's Act 1 of Hamlet, "Something is rotten in the state of Denmark." Amen. Something is also rotten in Washington, D.C.
Besides, why should al Qaeda attack us now? The U.S. occupation of Iraq is the best recruiting tool they ever had. Do the American people not realize (I think most of them actually do) that, thanks to our protracted occupation of Iraq, al Qaeda might actually be stronger now than it was when we invaded that country in 2003.

Advertisement
If the Bush administration was serious about fighting a war on terror, it would absolutely, resolutely, and immediately seal our borders and ports. It is nothing short of lunacy to send our National Guard forces to Iraq for the purpose of protecting that country's borders, while leaving America's borders wide open!
Not only does the Bush administration not secure our borders and ports, it wants to provide a "path to citizenship" for illegal aliens. It allows tax dollars to be used to pay for illegal aliens' education, social services, and medical care. It offers birthright citizenship for illegal aliens. And it prosecutes and imprisons Border Patrol agents Ignacio Ramos and Jose Compean for shooting (but not seriously enough to prevent his escape back into Mexico) a known illegal alien and drug trafficker.
No wonder the flood of illegal aliens has skyrocketed since George W. Bush became President of the United States.
And is there anyone who does not understand that a John McCain Presidency will be more of the McSame? A McCain White House promises a 100-year occupation of Iraq along with continued open borders and ports. Plus, McCain will also push forward with his plans to grant amnesty to illegal aliens.
In addition, when it comes to illegal immigration, amnesty, etc., there will be no relief from an Obama White House. Both Barack Obama and John McCain are pro-open borders, pro-amnesty twins.
Instead of fighting a "war on terror," the Bush administration (and numerous administrations before it) is allowing our troops to be used as the personal militia of the United Nations and for the commercial benefit of international corporations.
Remember, soon after our troops invaded Iraq, President Bush explicitly reported that the reason for the invasion was to defend "the credibility of the United Nations." But this has been the pattern of White House behavior ever since the U.N. was created back in 1945. Presidents from both parties have repeatedly injected U.S. troops into copious conflicts and wars, all for the purpose of enforcing and augmenting the policies of the United Nations.
In fact, the last constitutional conflict that the U.S. military fought was World War II. Virtually every war since has been a U.N. manufactured and manipulated conflict. The war in Iraq is no different.
I ask the reader, If you were President, and you sincerely believed that you were fighting a war on terror, and that you had to take the drastic action of sending other men's sons and daughters to fight and die in order to wage this war (not to mention the prospect of potentially bankrupting the country to fight it), would you be so careless or indifferent as to not close the borders to the threat of terrorists who might actually decide to attack us? I doubt that there is a reader who would not agree that anyone who took such a task seriously would--at the very minimum--do this.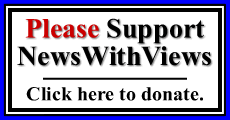 So, I repeat: the fact that George W. Bush refuses to seal our borders and ports proves that whatever else he thinks he is accomplishing in Iraq, he is disingenuous when he proclaims that he is fighting a "war on terror." (Again, the country that had the closest connections to the 9/11 terrorists was Saudi Arabia, not Iraq. If fighting the terrorists was the focus, why did Bush not attack Saudi Arabia?)
And that means John McCain is disingenuous when he says he wants U.S. troops to stay in Iraq for 100 years so "we won't have to fight the terrorists over here" while, at the same time, promoting amnesty for illegal aliens (which does nothing but promote even more illegal immigration).
Subscribe to the NewsWithViews Daily News Alerts!
No, my friends. The real war is not a "war on terror." The real war is a war against constitutional government, personal liberty, and national sovereignty. It is a war against the fundamental principles of America's Founding Fathers, that America should be a friend and trader with all, but engaged in entangling alliances with none. It is a war against the Bill of Rights. It is a war against the Spirit of '76, the spirit that says America is a free and independent country, subservient to no international entity or interest. It is a war against the principle that would put America first. It is a war against the very heart and soul of everything this country has stood for ever since our patriot forebears stood on Lexington Green and Concord Bridge. And this war is not being waged from Baghdad or Tehran. It is being waged from Washington, D.C.
*If you enjoyed this column and want to help me distribute these editorial opinions to an ever-growing audience, donations may now be made by credit card, check, or Money Order. Use this link.
� 2008 Chuck Baldwin - All Rights Reserved