GOVERNMENT CANNOT DO CHURCH'S JOB
By Pastor Chuck Baldwin
December 11, 2007
NewsWithViews.com
One thing that Christians should come to terms with is the truism that government cannot do the church's job. Not in any shape, manner, or form. Yet, by the way many Christians and pastors behave these days, one gets the impression that they don't really understand this truth. Instead, it seems that many Christians and ministers see the government--especially the federal government--as an extension of the church.
Now, if anyone thinks that I am about to go into a "separation of church and state" tirade, think again. The modern definition of "separation of church and state" is so far removed from the original meaning of the First Amendment that it is downright preposterous. All the First Amendment does is prohibit (the federal) Congress from passing any law establishing a state church or from prohibiting the free exercise of religion.
The idea that James Madison and the other authors of the U.S. Constitution and Bill of Rights intended to prohibit children from praying in school, or state and local governments from posting the Ten Commandments and from erecting Nativity scenes is the invention of modern-age humanists, whose real goal is to eviscerate America's Christian heritage. Such reasoning is a complete inversion of the real meaning of the First Amendment. All the First Amendment was designed to do was recognize religious liberty, something Americans enjoyed until the infamous Supreme Court decisions in 1962 and '63.
That said, it is equally apparent that many Christians and ministers today have developed the attitude that somehow the federal government is supposed to enforce by law what only the Spirit of God can enforce through grace. Let's be plain: the federal government cannot do the church's job.
The role of the federal government is to secure the rights that are given to us by God. Namely, the rights of life, liberty, and property. Properly understood, the role of the federal government has little to do with providing "services," and everything to do with securing the liberties of the people. It is just that simple.
However, a majority of Americans today believe that the federal government (in essence) is supposed to be father, mother, provider, teacher, doctor, and even preacher to people. Instead of looking to God, the family, the church, and individual responsibility, we look to Uncle Sam. And this sentiment is shared by a host of professing Christians as well.
Therefore, instead of doing the hard work of teaching and disciplining our children, we look to Uncle Sam to straighten out our rebellious kids. Instead of preaching the hard messages of truth from our pulpits, churches expect Uncle Sam to straighten out (through the power of law) all those "bad" people out there. Instead of taking personal responsibility for our own health and livelihood, we expect Uncle Sam to be our provider and protector.
Take the issue of morality, for example. When, pray tell, did it become the responsibility of the federal government to define, inspect, and enforce morality? Is this not first, the responsibility of the home, and second, the responsibility of the church? Do we really desire a federal government with the power to define and enforce morality? God forbid!
At this point, I should make it clear that state and local governments have every right--and even the responsibility--to establish community standards. State and local governments are legitimately within their rights to prohibit those activities deemed harmful to the health and well-being of their communities.
If states or municipalities want to prohibit "adult" book stores, they certainly have the right to do so. If they want to make prostitution and drug use illegal, they have every right to do so. If they want to regulate nightclubs and honky-tonks, more power to them. I, for one, have no desire to live in Pottersville. However, none of this is any of Uncle Sam's business!
Here is the problem: our pastors have become spiritual pantywaists and our churches have become spiritual playgrounds. Pastors and churches have sold their souls to success-driven "ministry." We want big attendances, big offerings, big family life centers, big youth departments, big Sunday Schools, and big-name people on our membership rolls. And we will do whatever it takes to achieve it.

Advertisement
And most of the time, in order to accommodate our overwhelming desire to be a "big success," pastors and churches will soften the message to the point that the average Sunday sermon is little more than a glorified "how-to-get-rich," or "how-to-be-happy," or "how-to-avoid-guilt," ad infinitum, ad nauseum, pep-talk. Words such as "sinner," "Hell," "judgment," "retribution," and "repentance" have been permanently removed from the vocabulary of the average pastor. The plain, powerful, old-fashioned Gospel has been replaced with sloppy, mushy, offend-no-one sermonettes that could not bring Holy Spirit conviction if one even wanted it--which hardly anyone does.
Furthermore, the music program of the average church is nothing more than a hard-rock concert, and our youth programs are little more than dating services. There is no church discipline or accountability. People can dress (or undress) any way they want, talk any way they want, and act any way they want with little or no supervision or oversight.
Then, when our families and communities go to Hell, instead of hitting the prayer closet and asking God to send revival to our hearts, our homes, and our churches, we demand that Uncle Sam fix it. We support presidential candidates who say they will lead the federal government in finding solutions to all of our ills.
Ladies and gentlemen, the federal government cannot do the church's job. The church has an obligation to be the "light" and "salt" of society. It should be setting the standard of righteousness through its preaching and teaching. It should be willing to call a spade a spade, even if it offends business leaders and politicians in the process.
Likewise, the federal government cannot do the family's job. It is the responsibility of each mother and father to teach morality and faith to their children. Parents are given the task of disciplining and correcting their children.
Let's tell it like it is: America is fast losing its moral compass because our families and churches are not doing their respective jobs. And the problem is, when families and churches fail, there is no Plan B. That is, not without the loss of freedom and independence.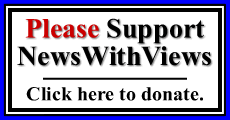 The federal government cannot do the job of the family and the church, because everything it does is at the expense of something else. The only wealth it has is what it confiscates from someone else. The only power it has is what it steals from someone else. The only "services" it provides are at the expense of someone else. This is why our country's founding documents state that the federal government's role was to be very limited and narrowly defined.
As someone rightly said, "A government that is big enough to give you all you want, is big enough to take it all away." Amen.
Subscribe to the NewsWithViews Daily News Alerts!
Therefore, instead of looking to presidential candidates who will use the federal government to accomplish everything we want done (even the good things we want done), we should support only those candidates who recognize the proper role of the federal government as being limited and narrowly defined (by the Constitution). And then, it behooves us to look to ourselves to be the parents we should be to our own children at home, and to look for pastors and churches that are not trying to be popular, but that are courageous and faithful custodians of the truth.
� 2007 Chuck Baldwin - All Rights Reserved
Sign Up For Free E-Mail Alerts
E-Mails are used strictly for NWVs alerts, not for sale


---
Chuck Baldwin is Founder-Pastor of Crossroads Baptist Church in Pensacola, Florida. In 1985 the church was recognized by President Ronald Reagan for its unusual growth and influence.�
Dr. Baldwin is the host of a lively, hard-hitting syndicated radio talk show on the Genesis Communications Network called, "Chuck Baldwin Live" This is a daily, one hour long call-in show in which Dr. Baldwin addresses current event topics from a conservative Christian point of view. Pastor Baldwin writes weekly articles on the internet http://www.ChuckBaldwinLive.com and newspapers.��
To learn more about his radio talk show please visit his web site at: www.chuckbaldwinlive.com. When responding, please include your name, city and state.

E-mail:�chuck@chuckbaldwinlive.com
---