By Pastor Chuck Baldwin
October 2, 2007
NewsWithViews.com
Let me remind readers that our directory of Black Regiment pastors is now online. We also have a list of cities in which people have told us they are looking for Black Regiment pastors. We have even listed a few Black Regiment pastors who are looking for churches. Be sure to visit this page often, because we are constantly adding new pastors to the directory.
See the Black Regiment directory.
In addition, we have added several new videos to our web site. These include three of my recent Sunday addresses. Titles added are "The Master's Plan," "Labor Not To Be Rich," and "A Labor Day Sermon." Watch these sermon videos here.
Plus, we have uploaded a speech by Professor Steven Yates that I believe everyone needs to watch. I recently had the privilege of sharing the platform with Professor Yates during the Upcountry Freedom Conference in Greenville, South Carolina. He delivered this speech during that conference. I liked it so much that I asked my staff to upload it to our web site. It is now online. We have titled his speech, "Professor Steven Yates Speaks To The Remnant." It is a fantastic presentation. I encourage all my readers to watch it. See it here.
We have also uploaded my radio interview with Vic Eliason on the nationwide radio broadcast "Crosstalk." That interview is located here.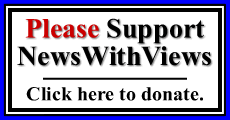 And there is one more: I was recently invited to participate in a live TV forum on CNN Headline News "Prime News with Erica Hill." This interview has been uploaded here.
As always, there is never any charge to view or download our videos. One may access these videos using either a dial up or high speed modem. Plus, one may download an audio version as an MP3 file for use in one's IPOD.
Subscribe to the NewsWithViews Daily News Alerts!
Let me remind readers, too, that we will be printing THE FREEDOM DOCUMENTS next month. These are 50 of the most notable documents of American history in one volume. We are currently taking reservations. To reserve your copies, click here.
Again, thank you for reading my commentaries.
� 2007 Chuck Baldwin - All Rights Reserved
Sign Up For Free E-Mail Alerts
E-Mails are used strictly for NWVs alerts, not for sale


---
Chuck Baldwin is Founder-Pastor of Crossroads Baptist Church in Pensacola, Florida. In 1985 the church was recognized by President Ronald Reagan for its unusual growth and influence.�
Dr. Baldwin is the host of a lively, hard-hitting syndicated radio talk show on the Genesis Communications Network called, "Chuck Baldwin Live" This is a daily, one hour long call-in show in which Dr. Baldwin addresses current event topics from a conservative Christian point of view. Pastor Baldwin writes weekly articles on the internet http://www.ChuckBaldwinLive.com and newspapers.��
To learn more about his radio talk show please visit his web site at: www.chuckbaldwinlive.com. When responding, please include your name, city and state.

E-mail:�chuck@chuckbaldwinlive.com
---