A PERSONAL INVITATION TO COME HEAR DR. ALAN KEYES
By Pastor Chuck Baldwin
September 26, 2006
NewsWithViews.com
Readers often write and express their desire to attend services at my church, the Crossroad Baptist Church in Pensacola, Florida. In fact, it is not uncommon now to see people in the congregation from across the country who are readers of my column. To those of you who would like to visit me in Pensacola, Florida, I offer this personal invitation.
On Sunday, November 5, 2006, we will host a giant God and Country Day with special guest speaker Dr. Alan Keyes. I would like to invite readers of this column to join us for this very special event.
Alan Keyes is known nationwide as one of America's most outspoken proponents of constitutional government and conservative principles. He is a graduate of Harvard University and a former Ambassador to the United Nations under President Ronald Reagan. In my opinion, Dr. Keyes is the most dynamic and articulate orator in America today.
Joining Alan Keyes will be notable tenor vocalist Tim Davis. Tim is in huge demand as a gospel and patriotic soloist. He has sung in some of the largest sacred and secular gatherings in the nation. He recently sang the national anthem in opening ceremonies for both the NFL Jacksonville Jaguars and the NBA Philadelphia 76ers.
Also attending our God and Country Day will be public officials and dignitaries from across Northwest Florida, along with many guests and friends from across the country. I would be happy if you would join them.
Sunday, November 5, will also be special for the fact that this date will mark my 31st anniversary as the founding pastor of Crossroad Baptist Church. 31 years ago, my wife and I and 4 other people met for the very first service. In addition, we will also be dedicating our brand new 750-seat auditorium (And, if I do say so myself, it is absolutely beautiful!) on this very special day.
If you contact us ahead of time, we can provide you with the name of a cooperating nearby hotel that is giving our out-of-town guests a special discounted price. To contact us, please email or phone my chief of staff, Chris Welman. He can be reached at 850-944-3544 or via email at Chris@CrossroadBaptist.net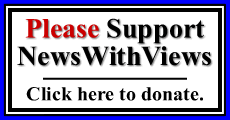 I am providing this invitation now so that people who desire to attend will have time to arrange their schedules.
It would thrill me and my church family to see many readers and viewers of my video sermons in attendance on Sunday, November 5. If fact, if you tell us ahead of time that you are coming, we would like to acknowledge your presence.
Subscribe to the NewsWithViews Daily News Alerts!
Please consider joining me in Pensacola, Florida on Sunday, November 5, 2006 for our giant God and Country Day featuring Dr. Alan Keyes. And, as always, thank you for reading my columns.
© 2006 Chuck Baldwin - All Rights Reserved
Sign Up For Free E-Mail Alerts
E-Mails are used strictly for NWVs alerts, not for sale


---
Chuck Baldwin is Founder-Pastor of Crossroads Baptist Church in Pensacola, Florida. In 1985 the church was recognized by President Ronald Reagan for its unusual growth and influence.
Dr. Baldwin is the host of a lively, hard-hitting syndicated radio talk show on the Genesis Communications Network called, "Chuck Baldwin Live" This is a daily, one hour long call-in show in which Dr. Baldwin addresses current event topics from a conservative Christian point of view. Pastor Baldwin writes weekly articles on the internet http://www.ChuckBaldwinLive.com and newspapers.
To learn more about his radio talk show please visit his web site at: www.chuckbaldwinlive.com. When responding, please include your name, city and state.

E-mail: chuck@chuckbaldwinlive.com
---