BUSH CONTINUES TO SELL AMERICA TO FOREIGN INTERESTS
By Pastor Chuck Baldwin
July 25, 2006
NewsWithViews.com
I previously wrote in this column [Read] about President Bush's attempt to transfer six major U.S. ports to a United Arab Emirates government-owned and operated company. Due to massive public resistance, Congress rose up in stiff opposition, which, temporarily at least, nixed the deal.
I also warned my readers in this column [Read] that President Bush was planning to turn nine military facilities (on U.S. soil) over to Dubai. To this, Congress said nothing, and the deal has already gone into effect [Read].
Now we learn that the Bush administration's attempts to outsource America's vital assets to foreign interests is expanding rapidly. It seems clear that Bush intends to sacrifice everything from America's roads and bridges to the ownership of U.S. airlines upon the altar of globalism!
USA Today reported on July 15, 2006, "Roads and bridges built by U.S. taxpayers are starting to be sold off, and so far foreign-owned companies are doing the buying."
American infrastructure newly acquired by foreign interests includes the Indiana Toll Road, Virginia's Pocahontas Parkway, a Texas toll road from Austin to Sequin, and a bridge in Alabama. The Chicago Skyway was sold for $1.83 billion to the same foreign consortium that purchased the Indiana Toll Road. The New Jersey Turnpike is on the negotiating block and discussions are also underway to sell the Ohio Turnpike.
Furthermore, Jerome Corsi reported in World Net Daily on July 18, 2006 that "The Department of Transportation, acting under President Bush's orders, is preparing to issue an administrative ruling that would open U.S. airlines up to foreign ownership, despite specific prohibitions and warnings from Congress, as well as predictions by pilots that another Dubai ports controversy is in the offing."
According to Corsi, "The [Bush] administration is determined to comply with European Union demands presented in the November 2005 'open skies' negotiations."
Couple these stories with the news that President Bush has already committed the United States to a trilateral, hemispheric merger with Mexico and Canada [Read], and the signs are crystal clear: President Bush is doing his dead-level best to bring the United States into a globalistic One World Order! Of this there can be no doubt!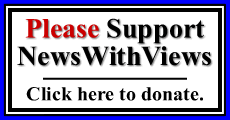 Serious students of history no doubt recognize Bush's actions as reminiscent of those of England's King George III, and serious students of the Scriptures no doubt recognize Bush's actions as reminiscent of those surrounding the Old Testament story of the Tower of Babel.
Subscribe to the NewsWithViews Daily News Alerts!
Whether one approaches his or her love of independence from a scriptural or historic perspective, the conclusion is the same: George W. Bush has abandoned his commitment to the United States and has become the servant of internationalists! His actions favoring foreign interests speak so loudly that they muffle his words of loyalty to America. In fact, his words serve only to mock the great principles that he was entrusted to defend!
How long will the America people allow this charade to go on?
© 2006 Chuck Baldwin - All Rights Reserved
Sign Up For Free E-Mail Alerts
E-Mails are used strictly for NWVs alerts, not for sale


---
Chuck Baldwin is Founder-Pastor of Crossroads Baptist Church in Pensacola, Florida. In 1985 the church was recognized by President Ronald Reagan for its unusual growth and influence.
Dr. Baldwin is the host of a lively, hard-hitting syndicated radio talk show on the Genesis Communications Network called, "Chuck Baldwin Live" This is a daily, one hour long call-in show in which Dr. Baldwin addresses current event topics from a conservative Christian point of view. Pastor Baldwin writes weekly articles on the internet http://www.ChuckBaldwinLive.com and newspapers.
To learn more about his radio talk show please visit his web site at: www.chuckbaldwinlive.com. When responding, please include your name, city and state.

E-mail: chuck@chuckbaldwinlive.com
---