COMMISSIONER CHERRYL WALKER, KANGAROO COURT AND BIG FINES
By Attorney Jack Swift, JD
May 28, 2013
NewsWithViews.com
EXPERIMENT IN FUNDING BUREAUCRACY
Josephine County in southwestern Oregon is a tiny example of the fiscal crises cropping up across the United States. Like its larger counterparts, Josephine County is becoming fiscally insolvent. As everywhere, the question is how to fund big bureaucracies. Josephine County is trying desperately and they have created an alternative funding scheme that may well be headed toward a backyard near you, if not already there.
In the last general election (11-20-12), the voters in this essentially conservative county elected a career liberal bureaucrat to the office of County Commissioner. In a tightly contested race, Cherryl Walker won by 58 votes. She is somewhat unique and sees this as a huge victory.
She brought to the office a focused career and all of the attitudes one might expect from her particular life experience. She spent six months attending law school and then decided to enter civil service working for the Forest Service. She garnered experience writing rules and regulations. For her excellent work and loyalty to the system she was rewarded with an appointment as an administrative law judge in the Department of Agriculture's Administrative Law division. Such appointments require no particular legal qualifications, only a knowledge of the rules. She spent the balance of her civil service days adjudicating disputes between citizens and the DOA arising from DOA rules.
Upon retirement, she entered local politics and was elected to the State Legislature as a Republican. (Voter registration in Josephine County is predominantly Republican.) The voters, however, apparently caught on and saw her as a RINO and dropped her after one term. As an incumbent she was defeated in the next Republican primary. Since then she has been a staunch Democrat and avowed liberal. In their hour of crisis, the voters of Josephine County elected her to the supposedly non-partisan office of County Commissioner.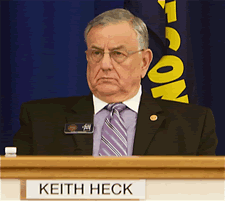 Her response might be seen as expected. Barely four months after being sworn in, she and a fellow commissioner, Keith Heck, proposed a property tax levy which would have siphoned $11 million from the depressed economy each and every year. (Josephine County has been hovering around 14% unemployment with nearly 50% of the population receiving food stamps.) That levy failed but Walker and Heck were not to be denied. They have unilaterally installed an extravagant expansion of the bureaucratic power of the County. It is a grand experiment in alternative funding.
It is an elaborate scheme. First, every County Department head has been appointed as an "enforcement officer." It is the function of enforcement officers to investigate, issue citations for, and prosecute all violations of any County ordinances, codes, or administrative rules. Alleged violations are not complaint driven. Investigations are triggered upon any reasonable grounds the enforcement officers can discover. Under the scheme, Department Heads are in turn empowered to designate employees in their departments as enforcement officers. In return for undertaking this bureaucratic workload, provision is made that all fines collected for offenses will be paid to the department issuing the citation. A true bureaucrat might view this as a dream come true - the bureaucrat is given extraordinary enforcement power over individuals and is in turn paid to exercise that power against those individuals.
At the same time, accurately reflecting Walker's Forest Service experience, she and her fellow commissioner have installed a system of County "Hearings Officer" tribunals. Should a citizen who has been issued a citation want a trial, he will be prudent to hire a lawyer at something like $250 per hour. The dispute will then be held before a hearings officer appointed by Walker and Heck and serving at their pleasure.
These hearings officers, like their BLM and USFS counterparts, have no special legal training requirements. Knowledge of the codes, ordinances and rules is all that is required. To accommodate their lack of legal expertise, all technical rules of evidence are dispensed with. The case is then prosecuted by the enforcement officer who issued the citation. While this arrangement might be seen as something of a kangaroo court, that charge is defended on the grounds that a defendant has a right of appeal of any decision of the hearings officer. Of course, a lawyer will tell you that an appeal is not a new trial of the evidence. An appeal is an examination of the conclusion of the court below in light of the facts determined in that court looking for simply an error of law in the circumstances. Appellate courts do not determine the facts. They do not re-weigh the evidence.
Subscribe to the NewsWithViews Daily News Alerts!
The creative thinking, of course, goes to the provision that every fine imposed in the course of the process is paid to the department that issued the citation and prosecuted the action. If various county bureaucracies can find sufficient violations of their rules, they will not need taxes for funding. They will have fines. Nor are we discussing a slap on the hand. For an on-going violation, the fine will run to $200 per day up to a maximum of $10,000.

One will have to watch Josephine County to see how this works out. Perhaps a harbinger of what is to come to a government near you?
Want to ask Walker or Heck about the scheme? They can be reached at the office of the County Commissioners, (541) 474-5221, Ext. 2 or by e-mail at cwalker@co.josephine.or.us, and kheck@co.josephine.or.us
© 2013 Jack Swift - All Rights Reserved
---
Jack Swift

E-Mail: jhswft@earthlink.net

---