EXTREME ENVIRONMENTALISM IS STEALING OUR LAND
By Dr. Laurie Roth
June 20, 2008
NewsWithViews.com
The terms "environmentalism" "carbon emissions" "global warming" "heritage areas" "scenic areas" "historical areas" "water ways" are really the front words and terms for global elitists and Government control regarding our land, our food supply and our guns.

Over the last few years alone we have seen our Government try and swoop in and seize millions of acres of privately owned land. Much of this aggression and distortion has fallen under the headings of "national trails and parks." HR 3998 authorizes 10 separate studies for new National Trails and Parks. Of course the term "trail" actually means the condemnation of thousands of acres on either side of the proposed trail. Hopefully none of us will notice until the eminent domain card comes up with ranch after ranch and home after home. It's called theft however you excuse it!!! I talked this week to one of the farmers on the Mississippi river, Joyce Morrison who had been aware of the land grab attempts, i.e. "wetlands" excuses for years on the river. She said we have no idea of the danger that is awaiting us.

This type of manipulation and theft is going on throughout our country while we sleep. To find out even some of the plots and acquisitions going on go to landrights.org. I called a representative at landrights.org and verified that land grab attempts and "studies" are going on throughout our country. This is huge folks! Wake up!
Even with the current disaster that residents face up and down the Mississippi river, levies breaching, flooding burying prime farmland and towns, they really have no idea what danger they are really in. If congress gets away with what they want to up and down the Mississippi, thousands of acres will be turned into "park" "trail" or "wet lands" to protect sentimental land to the US you see. Those of us with at least half a brain left call it what it is…. stealing!

There is HR 2421 Clean Water Act (Wetlands), S 1870 Senate Wetlands, HR 3287, HR 2593 Grijalva Border Wilderness Bureau of Reclamation (BOR) Yukon to Yellowstone Land Grab of millions of acres up through Montana, Idaho and a chunk of eastern Washington. This is all in the name of "caring for the land' and "environmentalism". The latest gimmick and game they are playing to seize more land is using the term "clean water act" HR 2421. Who doesn't want clean water?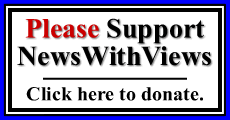 We saw several years ago now the unbelievable decision of betrayal by the Supreme Court regarding Kelo v.s. New London. This was where the Supremes actually sided with the Large Corporation and city wanting to seize control of the land. Businesses and homes in the way of "city progress and higher collectable taxes". So much for property rights. Now a greedy corporation could assault and take our property or business if we weren't big enough, not just the Government or city using eminent domain as a last resort to finish a road way or something. Fortunately, since this evil ruling, many states have made laws to limit eminent domain. So, land rights have been ironically going in the right direction in many states.
Subscribe to the NewsWithViews Daily News Alerts!
If you think that our constitutional land rights are still to be enforced and you don't wish to have your property seized, communicate with your congress person and let them know on state and federal levels that environmental land grab in the name of anything is NOT OK and you won't put up with it. Go to www.landrights.org for details and guidance on what may be going on in your area. The manipulation of the Yukon/Yellowstone Land Grab affects the area where I live. Don't think you are safe.
� 2008 Dr. Laurie Roth - All Rights Reserved