MERRY CHRISTMAS?
By Paul Proctor
November 30, 2008
NewsWithViews.com
A Wal-Mart employee opening the doors on Black Friday gets trampled to death by Christmas shoppers?
Well, I guess it was bound to happen sooner or later.
One witness that was interviewed said they acted like "savages." An Associated Press writer that reported on the incident, went on to say: "Other workers were trampled as they tried to rescue the man, and customers stepped over him and became irate when officials said the store was closing because of the death…"
I know we live in increasingly difficult times folks, but these weren't people pushing and shoving their way to food and water or homeless people struggling to survive on the streets. They were simply bargain hunters arriving early for toys, trinkets, TVs, games and other assorted amusements.
Calling this "tragic" is just not enough.
How about "vulgar"?
Still not enough…
"Disgraceful" – "pathetic" – "selfish" – "heartless" – "criminal"?
Nope – insufficient…
How about "evil"?
Yeah, that's the word – "evil."
But maybe there's an important message here beyond the savagery of the season. Before we get too discouraged and join the legions of others that lament this time of year, consider if you will, why Jesus was born.
Was it not to save "savages" like these?
Was it not to be crucified on a cross for the evil you and I commit each day?
The fact that a Wal-Mart employee would die at the hands of Christmas shoppers is more than just irony – it illustrates perfectly the need for a Savior whose birth these pathological patrons were preparing to celebrate with their sinful behavior.
And lest we think we're incapable of such ourselves – that we're "basically a good person" who would never treat others this way – just remember – hard times are coming – and our "goodness" is going to be tested like never before.
That's when some will hear the cock crow like Simon Peter, and see themselves as they really are.
The Bible says: "For all have sinned, and come short of the glory of God." (Romans 3:23)
Many who have yet to acknowledge the evil of their own sinful nature will finally have their eyes opened when life's comforts and conveniences are all taken away by that raging storm on the horizon. When darkness falls, few will recall that famous song, "What a Wonderful World."
Sure, it's in the headlines now that difficult times are ahead, but it's been in the scriptures all along – warnings given again and again that such days would come.
When the banks fail – when money's no good – when grocery stores are ransacked and empty – when your heat won't come on and the water won't run – when the lights go out and your television screen goes black – when your gas tank is empty – when all you have to treat sickness and injury is what's in your medicine cabinet – when looters, gangs and scavengers roam the streets day and night looking for weakness and opportunity and martial law is the order of the day – that is when many will finally recognize their need for Jesus Christ.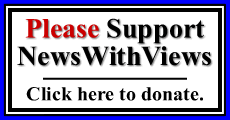 When that day comes and you see evil both out your window and in the mirror, just remember this:
"But God commendeth his love toward us, in that, while we were yet sinners, Christ died for us." – Romans 5:8
In the meantime, don't let all the bad news drown out the good news:
"And the angel said unto them, Fear not: for, behold, I bring you good tidings of great joy, which shall be to all people. For unto you is born this day in the city of David a Saviour, which is Christ the Lord." – Luke 2:10-11
Related Articles:
1. Sought: Wal-Mart Shoppers Who Trampled NY Worker
2. The Wal-Mart stampede, caught on camera