GOP ESTABLISHMENT STEALS TRUMP AND CRUZ DELEGATES IN TENNESSEE
By Kelleigh Nelson
April 3, 2016
NewsWithViews.com
"Power attracts the corruptible. Absolute power attracts the absolutely corruptible." —Frank Herbert
"Among a people generally corrupt, liberty cannot long exist." —Edmund Burke
The American electorate has been voting for the wrong people for so long, and now we're being screwed out of the candidate we really want by those same people.
Those people, and I'm talking about the GOP establishment (GOPe) are not loyal to the American people, to the Constitution, or to their oaths of office. Their only loyalty lies with the globalist New World Order elitists. I'll tell you something else too, they have absolutely no fear of we the people, they think you're stupid and that they can steal the election, install their puppet globalist and you'll do nothing about it. They are now in the process of stealing the delegates of the top candidate, Donald J. Trump, as well as the second place candidate, Rafael Theodore Cruz.
In the State of Tennessee
Darren Morris, state director of Trump's campaign in Tennessee, told The Tennessean the Trump campaign, and Tennessee Republican Party chairman Ryan Haynes, had agreed Wednesday, March 30th, on the names of seven of the 14 at-large delegates that, under party rules, are to be appointed by the state party. Delegates will ultimately decide the party's nominee at the Republican National Convention this summer.
But Morris said that an updated delegate list he reviewed late this week is now wiped clean of several of those names and instead features individuals who he described as strongly "anti-Trump." "A few of those names are still on there," Morris said. "Most of them are not. In fact, I've been told a few of them are very much anti-Trump and they're there to do the bidding of the RNC."
Morris said two of the pro-Trump at-large delegates supported by the campaign, but now taken off the list, are Republican state Sen. Bill Ketron, R-Murfreesboro, and Mark Winslow, former chief of staff of the Tennessee Republican Party. Both men were delegate candidates in the March 1 primary. Morris said Ketron is now slated to be an alternate delegate and that Winslow is no longer even on the list.
"We had agreed on (Winslow) to be one of our seven delegates," he said. "I was told today he had been moved to the alternate list. Now, I'm told he's not even on the list."
"They're picking anti-Trump people," Morris said. "They're picking establishment picks who don't support Donald Trump, and it's just the same effort that they're conducting all over the country to steal a vote here, steal a delegate there, to affect the outcome of the convention in July and take the nomination away from Donald Trump. The party chair is a puppet. He is doing the bidding of the GOP establishment to take the nomination away from Donald Trump."
They said they're worried the state Republican party wanted to appoint delegates who may not vote for Trump in later ballots at the convention if Trump doesn't win the 1,237 delegates needed to clench the Republican nomination outright.
Trump Won Tennessee's Primary
Trump won Tennessee's primary with 39 percent of the vote. Because candidates needed to meet a 20 percent threshold to earn delegates, the Tennessee Republican Party announced last month that 33 of the 58 delegates (57 percent) are to go to Trump, 16 to Ted Cruz and nine to Marco Rubio.
On Saturday, April 2nd, Trump's backers flocked to the party's executive committee meeting in Nashville, doubling down on allegations that officials are trying to stack Tennessee's delegation with members likely to vote for another candidate if given the chance.
A handful of Trump/Cruz operatives were allowed in. Trump supporters left outside the room were reportedly banging on windows to attract the attention of those inside.
For video click here.
Cat Hughes reported what happened in Nashville where the GOP was holding this meeting to appoint the remaining delegates.
"The meeting was to take place for one hour - it lasted over three hours. They announced a rule change at the last minute and wouldn't allow the maybe two dozen who'd shown up to support Trump into the meeting. Alternate delegates were also kept out by this decision. It was said it was due to fire marshal regulations, but once people left they still weren't allowing people to enter. There weren't any Cruz supporters there - only Trump's. Trump had won 94 of the 95 districts here in TN.

Friday afternoon it was discovered by accident that GOP head, Ryan Haynes was reneging on the deal to put strong Trump supporters on the "slate" as his delegates. This was not relayed to Tennessee Trump supporters until April 1st, around 9 p.m. with a call put out for people to come to show support. Instead, they had to vote all or none on a "slate" that included those who were elected as his delegates, those who are Trump supporters, and those who'd publicly bashed Trump on social media and who'd worked with our leftist Republican Congresswoman Diane Black, (she was one of our representatives that attended the outed meeting to get rid of Trump on a Georgia island resort). Presumptively, this type of meeting is taking place at all state GOP headquarters. There were no objections allowed for anyone specifically on the slate. It was all on the slate or none on the slate.

They aren't supporting Cruz, either. They're working the backfield to keep JEB in the race. It was relayed that both Trump and Cruz were concerned enough, as it effects both campaigns, that today the campaigns met to discuss the situation. Haynes told the people in attendance his life had been threatened by Cruz supporters. Frankly, I don't believe him, and no, I don't support ineligible Cruz. I think it's a ploy. Could be wrong, but I just don't believe him. He's lost credibility.

Anyway, with the all or none vote - with absolutely zero objections allowed to any one on the slate, the members elected for elected Trump delegates to remain as the GOP delegates, several strong supporters + two Trojan horses."
Rocky Top Politics Reports
The fix is in. Ryan Haynes and GOP establishment force through their slate which contains numerous phony delegates posing as Trump or Cruz supporters.

By a 15-vote margin, the GOP State Executive Committee made a farce of the March 1st state presidential primary today, April 2nd. Ignoring the expressed preferences of hundreds of thousands of primary voters, they created a slate comprised mainly of "reliable" party hacks who -- although committed by law to vote for the candidate they are assigned for two ballots -- are nonetheless free to screw those very candidates on procedural votes which could dramatically affect the outcome.

Want to know why voters are so upset with the Republican party? Look no further than the 44 slime balls who voted for themselves and their cronies while flipping off the voters and presidential candidates who actually earned their standing at the ballot box.
They've already done this in Louisiana, and now in Tennessee, and they're heading for South Carolina next. There will be hell to pay for this....and Mr. Trump must get his 1237 delegates in order to stop it.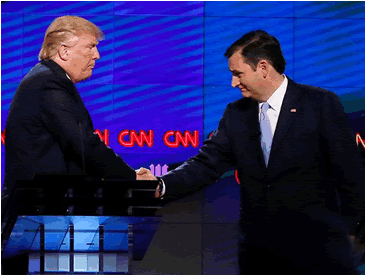 Trump and Cruz Delegates Now Working Together
Breitbart's latest is that Trump and Cruz delegates are forming a grassroots alliance pledging support for anti-establishment candidates.
"I am concerned about the future of our country, and I believe a brokered convention will only mean that Hillary will win," State Senator Mae Beavers (R-Mt. Juliet) an at-large Trump delegate told Breitbart News. "It's time we all honor our commitment to the process and to the people who elected us. I will do whatever I can to work with all delegates to make sure that is done," Beavers added.
Conclusion
Trump has been maligned by the GOPe, the DNC, and the MSM for everything under the sun. He has been lied about over and over again by the national media who claims he hates women, when he hires and supports promoting women in his organization. [Link]
Donald Trump has been accused of inciting violence, when in fact, the violence has been from communist George Soros and his paid lackeys. [Link], [Link]
The American people have chosen Donald J. Trump as their candidate, but the establishment GOP wants both Trump and Cruz gone. Their goal is for neither of them to be the candidate. They want a brokered convention where they can stick us with Jeb Bush or John Kasich, two hardcore establishment globalist republicans. Then we'll end up with Hillary Clinton in our White House again. This is the goal of our false friends in the Republican party. Don't let it happen!
P.S. Special hat tip to my friend in Nashville, and to Knoxville's former sheriff and delegate for Donald Trump.
[P.S. In order to help Mr. Trump we need to increase the hits to reach more people. Please use this material, and call into talk radio programs (like Rush Limbaugh or Michael Savage, etc.) and mention NewsWithViews.com on the air while discussing the content of this article, write letters to newspaper editors, and speak to your friends. Spread the word, and in doing so, we have a chance to save America.]
Please, click on "Mass E-mailing" below and send this article to all your friends.
© 2016 Kelleigh Nelson - All Rights Reserved
---
Kelleigh Nelson has been researching the Christian right and their connections to the left, the new age, and cults since 1975. Formerly an executive producer for three different national radio talk show hosts, she was adept at finding and scheduling a variety of wonderful guests for her radio hosts. She and her husband live in Knoxville, TN, and she has owned her own wholesale commercial bakery since 1990. Prior to moving to Tennessee, Kelleigh was marketing communications and advertising manager for a fortune 100 company in Ohio. Born and raised in Chicago, Illinois, she was a Goldwater girl with high school classmate, Hillary Rodham, in Park Ridge, Illinois. Kelleigh is well acquainted with Chicago politics and was working in downtown Chicago during the 1968 Democratic convention riots. Kelleigh is presently the secretary for Rocky Top Freedom Campaign, a strong freedom advocate group.
Website: www.rockytopfreedom.com

Blog: http://exposingmodernmugwumps.com/
E-Mail: Proverbs133@bellsouth.net
---