THE BILL COSBY I ONCE KNEW
By Kelleigh Nelson
January 24, 2015
NewsWithViews.com
"The measuring stick of success in Hollywood is covered in shit at both ends" —Dean Cavanagh, Award winning screenwriter and playwright.
Through humor, you can soften some of the worst blows that life delivers. And once you find laughter, no matter how painful your situation might be, you can survive it. —Bill Cosby
I certainly hope my old friend Bill Cosby survives the attack recently leveled upon him. Do I believe one word of it? Not a chance.
Back in the late 1960s, when my skin was still firm, my knees and hips worked amazingly well, and arthritis was an unknown entity in my various joints, I worked at the Playboy Club in Chicago as a bunny. It was one of the best jobs I ever had, and it paid my way through college. At the time, I lived in the Playboy Mansion on State Parkway, only a few blocks from the Club. I wrote about this venture of my early life in an article entitled, Born Again Bunny.

Living in the Playboy Mansion allowed many of the Bunnies who lived there to meet stars who came and stayed at the club while they were in town for plays or various venues. It was my greatest pleasure to meet Bill Cosby one night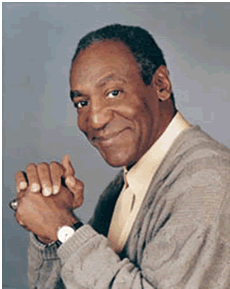 after both of us had gotten off work. Cosby was doing comedy shows at the time, and the television series, I Spy, with co-star Robert Culp, had just ended. I had finished a late shift at the club, and Bill was back from entertaining an audience with clean comedy, unlike the vulgarity of other black comedians, Richard Pryor, Dick Gregory, and Redd Foxx. (Cosby actually declined the coveted Mark Twain Prize twice, before finally accepting it in 2009, because of the profanity that dominated the first award show in 1998 for recipient Richard Pryor.) Several of the Bunnies were down in the basement of the club either swimming or in the steam or sauna. Bill was upstairs in the living room, but few people were around. Most of the gals went to bed, but I wasn't ready to retire. When I got upstairs, Mr. Cosby said to me, "How about a game of pool, I'm not ready to retire for the night yet." I said, "Sure, and down to the game room we went."
We must have played for several hours and for a nickel a game, can you believe that? I had to pay him, because although I was a champ at bumper pool in the Club, I really wasn't that great at regular pool. We chatted through the games and enjoyed each other's company. He shook my hand at the end of the games and said, "Thanks for the late night entertainment."
There was never an untoward comment, a touch out of place, or any insinuation of anything that was improper. I liked the guy, and I always have, and over the years his stories have made me laugh until tears ran down my cheeks, and I thought I couldn't get my breath!
In the mid to late 70s, I was working at the brand new Stouffer's Hotel in Dayton Ohio, as that's where I lived with my husband at the time, and I just wanted a part time job as my daughter was young and I wanted to be home with her. Dayton had wonderful monthly plays which came to town with many celebrities who would stay at the hotel for the long weekend. I met Raymond Burr, Don Ameche, dancer Ann Miller, Robert Conrad, and so many others I can't even recall. Most were wonderful, down to earth people who we all fully enjoyed. And then one night late, here comes Bill Cosby who was the entertainer for that particular month's play. Of course, I waited on him, and said, "Hi Bill...haven't seen you since the 60s at the Playboy Mansion." He didn't recall me until I mentioned playing pool all hours of the night. Then his face brightened and he asked me what I was doing out of Chicago.
I served him one drink and he asked me if I was getting off any time soon. I said, "As a matter of fact yes, I'm leaving in a few minutes." He asked if I'd like to have a bite to eat with him and I said, "Sure." Do you know we talked about politics for three hours? I certainly do not agree with all his politics, but I do agree with him fully on how he views his own people. We parted after three hours, and he gave me a hug and thanked me for the great conversation. Again, there was never anything untoward about the man whatsoever, and we were both married. I admire this man, I think he's a great actor and comedian and a wonderful representative of black Americans. I will never believe these women who are coming out of the woodwork decades later and claiming assaults by this man. So, let's take a look at the bigger picture.
Obviously, Bill Cosby is no saint, nor was he always faithful to his marriage vows; he had an affair in the past. [Link], [Link] That was 30 years ago and he and his wife got through it. Apparently, there are no more Jimmy Stewart's and Loretta Young's in Hollywood, but that doesn't mean Cosby has drugged and raped a multitude of women. It means he is a fallible human being in Hollywood. As well, are we to truly believe that Cosby would have to drug a woman to be with him? I highly doubt that, inasmuch as I've watched women fall all over actors/singers/comedians and jump in bed with them at the drop of a hat, and I saw plenty of this at the various places I worked through the years.
Bill Cosby's NAACP Address
Do you remember Cosby's address to the NAACP on the 50th Anniversary of Brown v. Board of Education, delivered 17 May 2004, Constitution Hall, Washington D.C? Here is the transcript of that speech, and it was a mighty one excoriating the black community's care of their children. He has been both praised and condemned for his statements. Bill Cosby has not repudiated his controversial pronouncements or attempted to distance himself from them. Instead, he has chosen to expand upon his theme on subsequent occasions and to make himself a spokesperson for black self-empowerment through education and better parenting. What do you believe the so-called black leaders think of this kind of rhetoric? Of course some had to support him, because he is a great star in his own right, but I highly doubt they were happy about his words. Here's a little taste of what he said back then.
"They're standing on the corner and they can't speak English. I can't even talk the way these people talk: Why you ain't, Where you is, What he drive, Where he stay, Where he work, Who you be... And I blamed the kid until I heard the mother talk. And then I heard the father talk.

Everybody knows it's important to speak English except these knuckleheads. You can't be a doctor with that kind of crap coming out of your mouth. In fact you will never get any kind of job making a decent living.

People marched and were hit in the face with rocks to get an Education, and now we've got these knuckleheads walking around.

The lower economic people are not holding up their end in this deal. These people are not parenting. They are buying things for kids. $500 sneakers for what?

And they won't spend $200 for Hooked on Phonics.

I am talking about these people who cry when their son is standing there in an orange suit. Where were you when he was 2? Where were you when he was 12? Where were you when he was 18 and how come you didn't know that he had a pistol? And where is the father? Or who is his father?

People putting their clothes on backward: Isn't that a sign of something gone wrong? People with their hats on backward, pants down around the crack, isn't that a sign of something?

Isn't it a sign of something when she has her dress all the way up and got all type of needles [piercing] going through her body? What part of Africa did this come from?? We are not Africans. Those people are not Africans; they don't know a thing about Africa.

I say this all of the time. It would be like white people saying they are European-American. That is totally stupid.

I was born here, and so were my parents and grandparents and, very likely my great grandparents. I don't have any connection to Africa, no more than white Americans have to Germany, Scotland, England, Ireland, or the Netherlands. The same applies to 99 percent of all the black Americans as regards to Africa . So stop, already! ! ! With names like Shaniqua, Taliqua and Mohammed and all of that crap ......... And all of them are in jail.

Brown or black versus the Board of Education is no longer the white person's problem. We have got to take the neighborhood back. People used to be ashamed. Today a woman has eight children with eight different 'husbands' -- or men or whatever you call them now.

We have millionaire football players who cannot read. We have million-dollar basketball players who can't write two paragraphs. We, as black folks have to do a better job.

Someone working at Wal-Mart with seven kids, you are hurting us. We have to start holding each other to a higher standard. We cannot blame the white people any longer.' "

Dr. William Henry 'Bill' Cosby, Jr., Ed. D.
This is the same man who, in 1971, was one of the lead stars on The Electric Company, a comedy variety show that taught basic phonetic and grammar concepts using live-action sketches, cartoons, songs, and Spider-Man episodes. This is where, then unknown, Morgan Freeman, got his start. Bill and his wife Camille have always been at the forefront of academic education for America's children.
Camille Cosby Speaks Out
ABC News reported that Camille Cosby has come out in defense of her husband and this is what she said, "A different man has been portrayed in the media over the last two months. It is the portrait of a man I do not know. It is also a portrait painted by individuals and organizations whom many in the media have given a pass. There appears to be no vetting of my husband's accusers before stories are published or aired. An accusation is published, and
immediately goes viral."

Camille Cosby, PhD, born March 20, 1944, is a television producer, author, and philanthropist as well as Bill's business manager. The character of Clair Huxtable from The Cosby Show was based upon Camille.
Bill Cosby married Camille Olivia Hanks, (direct descendant of Nancy Hanks Lincoln, President Abraham Lincoln's mother), on January 25, 1964. Together, they have had five children, Erika, Erinn, Ensa, Evin, and Ennis. Their only son, Ennis, was murdered on January 16, 1997, while changing a flat tire on the side of Interstate 405 in Los Angeles. The Cosby's have three grandchildren. Cosby is a Protestant Christian. He maintains homes in Shelburne, Massachusetts and Cheltenham, Pennsylvania.
Phylicia Rashad Defends Bill Cosby

Cosby show co-star Phylicia Rashad, who played Bill's wife, has strongly defended Bill Cosby. [Link] She has come out swinging against the sexual
assault allegations dogging her former co-star, saying they are part of an "orchestrated" smear campaign to keep the comedian off television. She stands defiantly behind him. She said in an interview that in the years she's known him, she has never seen the behavior alleged by the women who say they were drugged and raped, or sexually harassed.
Rashad said: "What you're seeing is the destruction of a legacy. And I think it's orchestrated. I don't know why or who's doing it, but it's the legacy. And it's a legacy that is so important to the culture."
Rashad dismisses claims from both Beverly Johnson and Janice Dickinson. "Oh, please," she said when their names came up. She also is quick to defend Camille Cosby. "This is a tough woman, a smart woman." "She's no pushover." There is no question, Rashad said, that Camille Cosby has not been complicit or looked the other way as her husband terrorized women for the last 50 years.
Phylicia said, "Someone is determined to keep Bill Cosby off TV," alluding to people other than the women. "And it's worked. All his contracts have been cancelled."
Conclusion
Hollywood is obviously not coming to Bill's defense, although they'll laud pedophiles like Roman Polanski and Woody Allen as being brilliant rather than being perverts. And then what about the black leaders, Jesse Jackson, Louis Farrakhan, or Al Sharpton, none of whom I'd trust in a dark room. They say nothing because Bill Cosby is not one of them, but they have plenty to say about the 18 year old criminal killed by the police officer in Ferguson, Missouri. Who did these so-called leaders blame for the Ferguson shooting, and what actions resulted from their inflammatory comments? No, the likes of Hollywood and the black leadership will not come to Dr. Cosby's defense.
I will never believe the allegations against Bill Cosby, and I question why there would be so many women coming out now rather than when these so-called alleged attacks occurred. Something smells big time. I know of no other black personality who has said the same things Bill has said regarding his own people and education, and Bill has been very outspoken about their failures. Yet, he has done more for his own people through his family's philanthropic charities, and few people know the extent of their giving.
I will always love this man for making me laugh till I cried, and I will always think highly of him. He was a great gentleman to me, not once, but twice. As Phylicia Rashad said, Bill Cosby is a legacy, to all Americans, and especially to his own community of black Americans, and he is now being destroyed by what I believe are not only false allegations, but perhaps even paid purposeful attacks.
© 2015 Kelleigh Nelson - All Rights Reserved
Click here to visit NewsWithViews.com home page.
---
Kelleigh Nelson has been researching the Christian right and their connections to the left, the new age, and cults since 1975. Formerly an executive producer for three different national radio talk show hosts, she was adept at finding and scheduling a variety of wonderful guests for her radio hosts. She and her husband live in Knoxville, TN, and she has owned her own wholesale commercial bakery since 1990. Prior to moving to Tennessee, Kelleigh was marketing communications and advertising manager for a fortune 100 company in Ohio. Born and raised in Chicago, Illinois, she was a Goldwater girl with high school classmate, Hillary Rodham, in Park Ridge, Illinois. Kelleigh is well acquainted with Chicago politics and was working in downtown Chicago during the 1968 Democratic convention riots. Kelleigh is presently the secretary for Rocky Top Freedom Campaign, a strong freedom advocate group.
Website: www.rockytopfreedom.com
E-Mail: Proverbs133@bellsouth.net
---