OHIO AG DEPT. & STATE'S TOP COP SUED FOR FOOD CO-OP RAID
By Sarah Foster
Posted 1:00 AM Eastern
January 7, 2009
© NewsWithViews.com
It's been over a month since a team of 10, heavily armed sheriff deputies, at the behest of county and state agencies, conducted an aggressive mid-day, search-and-seize raid of the home of John and Jacqueline Stowers, owners of an organic food co-op called Manna Storehouse in LaGrange, Ohio -- and tore their world apart.
The couple has not yet been charged with a crime, but they don't have to wait to become defendants in a trial -- they're the plaintiffs in a court action launched by two advocacy groups on their behalf.
The Columbus-based Buckeye Institute for Public Policy Solutions, through its 1851 Center for Constitutional Law, and the Farm-to-Consumer Legal Defense Fund [FTCDLF] filed a joint, 12-page complaint Dec. 17 in the Lorain County Court of Common Pleas against the Ohio Department of Agriculture, the Lorain County General Health District and the state's attorney general for violating the Stowers' constitutional rights, including their rights to due process and equal protection, and unlawful use of state police power.
"The use of these police-state tactics on a peaceful family is simply unacceptable," said Buckeye Institute President, David Hansen, in a news release announcing the lawsuit. "Officers rushed into the Stowers' home with guns drawn and held the family – including 10 young children – captive for six hours. This outrageous case of bureaucratic overreach must be addressed."
The Family and Its Storehouse
John Stowers, 56, and his wife Jacqueline, 47, live in a quiet rural community 24 miles southwest of Cleveland. Seven of the Stowers' eight children are still at home and their daughter-in-law Katie Stowers, 24, lives there with her three small children.
For about four years they've operated a home-based organic food-buying and distribution cooperative called Manna Storehouse, located in an enclosed breezeway attached to their residence but with a separate, outside entrance. A blogger describes it as "a folksy place with old wooden floors where co-op members stopped by to chat and snack on bags of organic corn chips."
A sign on the door tells people that the storehouse is private, not a business, and that it's not open to the general public. Co-ops are membership organizations. To obtain food, you have to join.
The Stowerses distribute foodstuffs their members have ordered: flour, sugar, grass-fed beef and lamb [packaged and frozen at the butcher], eggs from pastured chickens, butter, cheese, organic honey and maple syrup, and other natural foods.
Their lawsuit explains: "A significant amount of this food is purchased from local farmers whose farming practices coincide with what co-op members, including the Stowers, demand. The co-op takes orders from members, acquires the food that is ordered, and then distributes it to members of the co-op in a manner that reflects members' orders."
The Raid
On Dec. 1, sheriff deputies made an unannounced "haphazard entry" into the Stowers' home, "with guns drawn, as other officers surrounded the property, with guns drawn."
Determined to prove ongoing illegalities, agents from the Lorain County Health District and ODA searched not only the storehouse but "the Stowers' entire personal residence and their entire 26-acre property," confiscating computers, cell phones, invoices and other business records – and a year's supply of the family's food.
Although charges against the Stowerses have not been filed, an ODA official in a sworn affidavit, written to obtain the search warrant, asserts that the Stowerses were operating a "retail food establishment" without a license, a violation of Section 3717.21 of the Ohio Revised Code – "outside of any exclusions provided in Section 3717.22 of the ORC."
Attorney Maurice Thompson, director of the Buckeye Institute's Center for Constitutional Law and author of the complaint, told NWVs that the Lorain County prosecutor has indicated he'll be filing criminal charges against the Stowerses.
"He believes they've been running a retail food business without a license," Thompson explained. "He doesn't understand the difference between a co-op and a retail food business. He's accusing them of being the same as a Kroger's or Walmart. In Ohio that's a third-degree misdemeanor so they might be prosecuted criminally."
If that happens, the Stowerses could be fined $1,000 for every day they run the co-op, Thompson said.
Inalienable Rights
In the lawsuit Thompson and co-counsel Gary Cox of the FTCLDF argue that buying food directly from local farmers, distributing it to neighbors, growing one's own food and pooling resources to purchase food in bulk are "fundamental inalienable rights exercised by Ohioans at the time of its 1851 Constitution …"
They contend that the part of the Ohio Code dealing with retail food establishments and food services does not apply to food co-ops.
"R.C. 3717 is intended to regulate large, commercial grocery stores rather than family-run organic food co-ops, and the Stowers and/or Manna Storehouse are exempted from the licensure requirement because they only engage in shared ordering of organic food, and the growing of their own food on their own farm."
Manna Storehouse "cannot reasonably be classified as a retail food establishment because it does not store, process, prepare, manufacture or otherwise handle food for retail sale."
Moreover, "one of any number of exemptions articulated in R.C. 3717.22 applies to the Stowers and/or the Manna Storehouse."
Unlawful Search and Seizure
Besides having a right to distribute and share food outside the state regulatory and licensing system, Thompson and Cox maintain that peaceful citizens have a right to be free from paramilitary police raids, searches and seizures -- a right guaranteed under the Fourth Amendment to the U.S. Constitution and Section 14, Article 1 of the Ohio Constitution.
The search itself was "unlawful", in part because "there is no evidence whatsoever, to support anything other than a calm, peaceful and consented-to entry into, and search and seizure of, the Manna Storehouse and the Stowers' private residence." Nothing in the affidavit used to obtain the search warrant suggests the Stowerses were armed and dangerous or that anyone in the family would destroy evidence.
And although the law permits the ODA and county health departments to contract with police in "performing routine services in the administration and enforcement" of Chapter 3717 -- "Forceful raids and sweeping searches and seizures are not 'routine services in the administration of [Chapter 3717].'"
The ODA and Health District "exceeded the scope of the authority delegated …by the Ohio Legislature when [they] contracted for the forceful and sweeping raid, search, and seizure of the Stowers' private residence," the complaint declares.
The attorneys are seeking an injunction against similar future raids and a declaration that such licensure laws are unconstitutional as applied to the Stowerses and others like them. And they are asking the court to order the ODA to return the family's property, including some $10,015 worth of food that was confiscated as "evidence," of which $8,030 worth was for the family's personal use.
This included a large amount of lamb, since the Stowerses recently had much of their personal herd of sheep slaughtered to provide a year's supply of meat for themselves and their family.
The Irony of Chad Stowers
That's a lot of food, but it's a big family and there are a many mouths to feed. It would normally be even larger, but the Stowers' oldest son, Chad, 27, Katie's husband, who helps with the co-op, is currently stationed in Iraq where he is a Seabee with the U.S. Navy.

Advertisement
The irony of Chad Stowers serving his country overseas while government agents raid the family farmstead was not lost on author and Business Week columnist David Gumpert, who has a blog where he discusses food and health care issues and cases like the raid on Manna Storehouse.
"[Chad]'s been there [in Iraq], separated from his family, for the last five months, supposedly protecting our rights from abuse—the sort of abuse that appears to be taking place on an ever-more-frequent basis at farms and food outlets around the country," Gumpert observed in an online piece he titled: Seems U.S. Forgot to Tell Navy Seabee Chad Stowers the Real War is being Fought Here …and He's the Enemy.
Gumpert says that he asked Katie if she was aware of "the irony of her husband putting his life on the line in Iraq, while she was being held at gunpoint in her home by American law enforcement officials, and she said, 'It occurred to me.'"
Connecting Some Dots
It's not completely clear what set the bureaucratic wheels in motion that led to the raid or prompted its planners to use a degree of armed force generally considered appropriate only for drug raids or hostage rescues. But some details can be gleaned from Internet reporting and official documents filed with the court – particularly the Search Warrant and its exhibits that were posted online by the Cleveland Plain Dealer.
These exhibits include the affidavit by ODA enforcement agent William Lesho giving his reasons for a search; a letter from James Boddy, an official with the Lorain County General Health District to the ODA requesting ODA assistance; and a letter (dated Dec. 10, 2007) by Jacqueline Stowers to Dorothy Kloos, the "registered sanitarian" with the Health District who initiated the investigation.
A blogger close to the family reports that a year ago "a bit of non-institutional beef in an Oberlin College food service freezer" was discovered and traced to Manna Storehouse. The college is near LaGrange and its student food coop had joined the Storehouse in order to obtain locally produced organic foods as well as food in bulk from the national organic food distributor which services buying-clubs nationwide.
Next, according to Jacqueline Stowers, on Nov. 29, 2007, Kloos phoned Manna Storehouse and asked "to do an inspection of our private property as a food service operation." The Stowerses said they were not certain what was being discussed and asked for information to be mailed "so we could review your paperwork," and Kloos agreed.
Rather than wait for the mail, "The very next day [Nov. 30] you and two other accomplices entered our private property without permission and attempted to do an Inspection." The couple refused to allow them on the property and asked the agents to leave, explaining they could not answer questions until they'd reviewed the information that Kloos left with them. This included a copy of the Ohio Revised Code, Chapter 3717.
After reviewing the material they concluded that the Health District was of the "mistaken position" that theirs was a "retail food establishment" or a "food service operation." Jacqueline asked Kloos for additional information and documentation [complaints and letters to the department, for instance] that "would lead you to believe we are conducting any activities that are not exempt under [the Revised Code] and would require that type of licensing."
Jacqueline sent her letter by certified mail, but never received an answer. The matter was passed on to the county prosecutor's office for a response and to James Boddy, Director of Environmental Health with the Lorain County General Health District.
More than eight months went by. Then, on Sept. 16, Boddy wrote to the ODA asking for help "gathering evidence regarding the Manna Storehouse operation and, if this operation must be licensed, assist the Health Department in preparing case if prosecution is necessary."
He explained: "The existence of Manna Storehouse came to the attention of Dorothy Kloos … In reviewing the website for this operation she has determined that this operation may be required to be licensed as a retail food establishment or as a warehouse operation by Ohio Department of Agriculture."
At this point the investigation took a sharp turn. On Sept. 30 and Oct. 7, William Lesho – a 20-year enforcement agent with the ODA – tried to entrap the Stowerses into selling him some organic eggs. According to his affidavit, following one failed attempt Lesho succeeded in buying a dozen – but he had to join the co-op and pay a small membership fee first.
The Stowers say Lesho was particularly insistent and they allowed him to join and buy eggs only to get him off their property.
Now, while Boddy in his request for ODA assistance was careful to phrase his comments in a way that left the requirement of licensing a matter to be determined (that there may be a violation of the Sec. 3717.21 of the code) – in Lesho's eyes there was no room for mere suspected illegality or the possibility that what the Stowerses were doing may require a license, but then again, maybe not.
As far as Lesho was concerned the Stowerses were guilty without even being charged.
"Criminal offenses have occurred, to wit: Operating a retail food establishment without a license, in violation of Section 3717.21 of the Ohio Revised Code outside of any exclusions provided in Sec. 3717.22 of the Ohio Revised Code," he wrote.
Once Lesho had decided the Stowers' actions were criminal, and a judge agreed – it was just a step to ordering an armed raid.
The Big Question – Why?
But the big question remains: why was such a show of force deemed necessary?
Maurice Thompson may have part of the answer. He suggests the raid was intended to instill fear not only in the Stowerses and other co-op owners – but in their suppliers.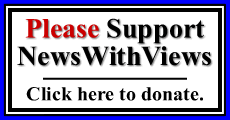 "They were apparently trying to threaten and intimidate people who are farmers or butchers who are selling the grass-fed beef or the free-range chickens or whatever to the Stowers and trying to set up controlled purchases as though the conduct itself was illegal," he said.
David Gumpert writes: "It had to be about more than a retail license. Because of the ODA's involvement, you can reasonably assume it was about sending a message. … I suspect the message has to do with concern about the growth of private groups, like herdshares and co-ops, to ensure access to organic nutritionally dense foods. Let's see of the courts will stand up to the police-state tactics that ODA has grown so fond of."
Subscribe to the NewsWithViews Daily News Alerts!
Whatever the reason, as Thompson put it: "The Stowers' constitutional rights were violated over grass-fed cattle, pastured chickens and pesticide-free produce. Ohioans do not need a government permission slip to run a family farm and co-op, and should not be subjected to raids when they do not have one."
Update
The Online Docket for the Lorain County Court of Common Pleas shows that the complaint was filed Dec. 17 and summons were sent to the different parties on Monday, Jan. 5. The case number is 08CV159968. A hearing date has not been set.
Earlier Stories
1. Berit Kjos: SWAT Team Conducts Food Raid in Rural Ohio. Dec. 21, 2008
2. Devvy Kidd: The Gods of D.C. Mean to Rule You With Brute Force. Dec. 22, 2008
3. Sarah Foster: Just an "Uneventful Execution" of a Search Warrant. Dec. 23, 2008
Additional Articles and Information
1. Buckeye Institute Video: The Stowerses Tell Their Story
2. Buckeye Voices: Podcast: David Hansen and Maurice Thompson discuss the case
3. The Bovine Website: ODA SWATS Manna Storehouse. Dec. 3, 2008, and updates
4. David Gumpert: Seems U.S. Forgot to Tell Navy SeaBee Chad Stowers the Real War is being Fought Here …and He's the Enemy. The Complete Patient (blog), Dec. 5, 2008
5. David Gumpert: Rounding Up 8 Children at Gunpoint and Stealing their Food: Is This What Regulation Has Come to in the U.S.? The Complete Patient, Dec. 17, 2008
6. David Gumpert: After All We Do For You, This Is How You Thank Us? Maybe It's Time to Take a Different View of Herdshares and Co-ops. The Complete Patient, Dec. 20, 2008
7. Lorain County Court of Common Pleas: Online Docket Sheet