THE SOUTH SHALL RISE AGAIN
By Kelly McGinley
February 2, 2005
NewsWithViews.com
I am so proud of Alabamians who have not been swayed by the self righteous, self-proclaimed elite who have tried to convince you that Judge Roy Moore is some kind of nut. That he broke a law and deserved to be fired, although no one has yet been able to give us the statue and code of that law. I am proud you did not fall for the attacks against him.
It does my heart good to know that Alabamians realize that there is a problem with judges in this country. The philosophy of Alabama's Supreme Court justices who voted to remove the 10 Commandments and Chief Justice Moore, is the same philosophy that is destroying America.
We are blessed to have voted back into office Tom Parker, (whom they fired along with the judge) now as their associate. We have put back on our Supreme Court the same strength of character and strict constructionist we have in Judge Roy Moore.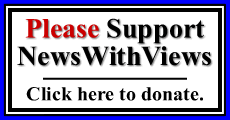 Judicial tyranny has turned justice and truth on its head. Thank goodness there are still people on this planet who know truth. The opportunity for Alabama to be a leader to turn this country back around could be within our reach. It will take courage to go against the political elite, media or even the leading pulpits that are hell bent on turning this country into something other than a republic.
Listen to Kelly McGinley on AmericanVoiceRadio