Why Haven't I Heard About This?
The controlled press has been instructed to avoid commenting on this issue until it becomes a fait accomplis. At that time your congressional legislators will say they are sorry but there is nothing they can do to reverse the Codex. The truth is they were, all but a few, bought and paid for back when the World Trade Organization was ratified by the U.S. Congress.
Can Anything Be Done To Stop This Codex?
I hope so but the remaining time is miniscule and the enemy has carried out a brilliant strategy. There is no reason for any optimism about the possibility of reversing the Codex regulations. A brilliant English lawyer (Anderson), considered to be the top lawyer in that nation, has agreed to fight the Codex in court because he thinks he can win. This fight needs money because it is against the incredible financial resources of the pharmaceutical industry. Two other sinister Directives need to be reversed in Brussels as well as the implemented Codex Directive. Donations to the http://alliance-natural-health.org are vital. These funds will be used to try to overturn Codex and hire lobbyists to oppose the other 2 Directives.
Contacting your congressman and senator is desirable. If millions of persons get involved the legislators may take notice. The New World Order leaders were shocked when meetings in Seattle in 1999 and Quebec City in 2001 resulted in riots. When the responsible U.S. citizens that have kept themselves well with intelligent use of supplements learn that there is nothing available from now on they are likely to be very angry. For many persons this may crystallize the realization that they are living in a police state and that there is no longer any power in the hands of private citizens.
What Can Concerned Individuals Do To Preserve Good Health?
If our donations do not stop this pharmaceutical juggernaut some planning may still be worthwhile. Many large natural health product providers seem to be oblivious to this danger. Perhaps they are planning on selling out to BIG PHARMA at the last minute.
Buying a stock of the supplements that have helped you seems wise. Remember the expiration date on a bottle is simply an educated guess. Manufacturers want to error on the side of public safety and setting dates close to the time of manufacture encourages increased sales volume. The U.S. military has taken advantage of the probable safety of medicines beyond their expiration date by continuing to use expired bottles for many months beyond their expiration date. This program has saved the military many millions of dollars in pharmaceutical costs. To determine safety of products involves expensive testing for evidence of oxidation and other deterioration of products so it is not done very frequently by most companies.
Essential Oils
Those of you who don't know much about essential oils may want to start learning fast. Essential oils are very potent substances carefully grown and distilled from flowers, trees, shrubs, plants, flowers, roots, herbs, bushes and seeds. To make one pound of a pure essential oil may require 500 to 2000 pounds of carefully harvested raw plant material. An essential oil which was found in the tomb of a pharaoh in Egypt had no sign of bacterial contamination. The wide variety of essential oils permits therapy of many different conditions. Perhaps the most valuable thing about essential oils is that they do not expire worthless. They will be just as useful 25 years from now as they are today. Young Living Essential Oils of Payson, Utah has a fine reputation for quality products. They are multi-level marketing so you will need a referral to a representative to buy products.
Pastor David Eels, of Pensacola, Florida, his wife and 5 children decided that they would trust the word of God and expect Jesus to heal them. They did not visit doctors and Jesus never failed them. Sometimes fractures took several weeks to slowly bend to perfect alignment but every health issue experienced by this family was resolved by Christ. God has every right to test believers and this will become obvious during the tribulation which all believers will experience. Will our actions match our talk? Pastor Eels received special insight to difficult prophetic Bible passages from the Lord. He points out on a videotape from the Prophecy Club of Topeka, Kansas that if the rapture occurred before the tribulation there are no scriptures to explain how persons saved during the tribulation could enter heaven. I learned a lot from these 4 videotapes about the Christian walk and understanding the remaining prophetic events. During the tribulation we can expect our resources to be taken away from us so we will have only our Lord to depend on for everything.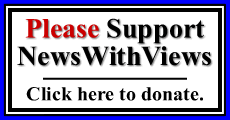 For persons finding it hard to understand why all current turmoil is occurring remember that the Bible warns us there would be unprecedented weather problems and a One World government in the end times. The powerful organizations putting this together (Trilaterals, Club of Rome, Bildenbergers, 33rd degree Masons, etc.) meet in secret and are serving Satan. These individuals are certain that the world population is too large and they want to reduce it by 90% or more. This explains how genocides of Christians in Africa can occur with no publicity. I think that vaccines are a diabolically clever way to kill people and now with the anti-terrorism laws you can be arrested and imprisoned for refusing to take a government mandated vaccine. Where is our freedom?