HAVE HILLARY'S NEW AGE STRATEGISTS ABANDONED HER?
By Attorney Constance Cumbey
May 21, 2008
NewsWithViews.com
On April 4, 2008, I wrote an article, "Hillary Clinton's New Age Strategists" for NewswithViews.com. I also published same in my own blogspot. I decided to follow up today on the relationship between Hillary Clinton and her former New Age strategists: Jean Houston and Marianne Williamson.
It appears that shortly before the publication of that article as to Marianne Williamson and thereafter as to Jean Houston, for reasons presently unknown to Yours Truly, her two former major New Age advisors have viciously abandoned her. Marianne Williamson (Youtube, March 18th) crudely said she would not be supporting Hillary because she was "not voting with my vagina." Such gratitude (or lack thereof) from somebody whom Hillary and Bill Clinton graciously allowed to convene a Camp David gathering and make their own guest list!
Jean Houston, although a tad more elegant in her cutting down language, was equally treacherous to Hillary Clinton's cause. In a May 12th Los Angeles Times article, she was interviewed from her home in Ashland, Oregon. She was not supporting Hillary either. Hillary did not "properly embody" the feminist image, said Houston.
Houston boycotted Hillary Clinton's Ashland, Oregon fundraiser although she was home that night and claimed Hillary would be happy to see her if she did deign to attend.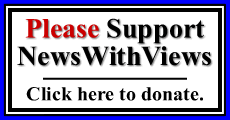 I do not know the real reasons Marianne Williamson and Jean Houston have turned on the woman who gave them free run of Camp David and the White House. It may be because of Oprah Winfrey's obvious usefulness to their book sales and not Hillary's own ideological convictions. This, however, I do suspect. If they now dislike Hillary Clinton that much, she must not be as useful to their New Age agenda as they once hoped.
Subscribe to the NewsWithViews Daily News Alerts!
I am not voting in Kentucky nor in Oregon, but if I were, knowing that Marianne Williamson and Jean Houston had jumped ship, I might be tempted to board Hillary's vessel, at least for the Primary Election.
May the least New Age among them win! At least Hillary did not display the meanness of spirit shown by her former New Age cum "cultural creative" friends. If they now dislike Hillary that much, she must be doing something right!
� 2008 - Constance Cumbey - All Rights Reserved