ILLEGAL ALIENS, VIOLENCE, AND AMERICAN MEDICINE

Dr. Madeleine Cosman, Ph.D., ESQ
May 21, 2005
NewsWithViews.com
An Emergency Room physician is obliged to report to the police all patients evidencing domestic violence with guns. However, in most states, that same physician is forbidden to report known or suspected illegal aliens because he works in an illegals' "sanctuary city." A friend who is an ER doc who works in Los Angeles reported: "A woman brought to my ER was so viciously riddled with gunshots that for the first time in 12 years working in this hospital I shuddered at the malice that finally killed her. This was not the first time I saw her. I recognized my own surgical handiwork in scars from last year when I worked to save her life. Her husband is a notorious illegal alien on a "most wanted" list. Last year police caught him and deported him. But he came back with vengeance. This beast mocked my horror at his sadistic gun skills. A court supposedly convened to deport this brutal criminal just awarded him a Green Card for legal permanent residency. He no longer needed his American wife. What legal craziness gives a dangerous known felon and illegal alien a welcome home for pillaging and murder?"
I answered with thanks for his courage in asking about immigration law, and thanks for his service to America by working in a California battle zone. Law-abiding Americans will be shocked to realize how difficult it is to report and to deport illegal aliens. The Department of Homeland Security after September 11 was structured to incorporate Immigration and Customs Enforcement (ICE). ICE's old name was Immigration and Naturalization Services, the notoriously incompetent INS. Though you as an ER doc cannot report an illegal alien in your politically correct hospital, another citizen could phone 1-866-DHS-2ICE or 1-866-347-2423.
That is a valuable number if you speak to an intelligent person, not a recording, and you must provide the illegal's name, location, workplace, and residence. Report on-line at www.ice.immigration.gov. To report suspicious airplanes or boats, phone ICE's Office of Air and Marine Operations (AMO) at 1-866-AIR BUST or 1-866-247-2878.
It is harder to deport known criminal illegal aliens. Criminal aliens who are arrested and eligible for deportation, because of previous and current convictions, may or may not be held in detention because we have insufficient jail space and money to keep them behind bars. The ICE division of Detention and Removal is releasing illegal aliens from federal custody nationwide not for good behavior but for bad crowding. This year ICE's detention budget houses only 19,444 detainees.
That detention number is ludicrously small considering our vast yet unknown number of illegal aliens that some credible estimators peg at 12 million and others up to 20 million. On June 10, 2004,Victor Cerda, ICE's acting Director of Detention wrote to his Regional Detention and Removal officials: "Currently we are exceeding the level our resources can support."
Agents therefore must catch and keep fewer illegal aliens. For criminal illegals who must be detained by law, such as people charged with aggravated felonies, ICE and border agents must consider "discretion and financial constraints" before arresting a criminal illegal alien. ICE released illegal aliens from jail nationally within eleven days to reduce detainees from 23,000 on June 14 to 21,610 on June 25. Where did they go? Those released are left to their "honor system" to report for deportation court hearings. Some post a bond, and others wear electronic anklets or bracelets that theoretically allow them to be tracked. Law enforcers on Border Control to catch drug smugglers, espionage agents, and foreign terrorists under ICE's Office of Investigations must regulate their arrests and therefore the flow of new aliens into Detention and Removal.
Removal means deportation. Those detained are not easily removed. ICE claims that detaining and removing criminal aliens and other deportable aliens deters illegal immigration and protects public safety. However, a little known court system employs over 200 well-paid judges (earning up to $150,000 annually) and supports an astonishing spiderweb of immigration lawyers and advocates for illegal aliens. These catch most removal orders and slowly chew them until they spit out amnesty.
Executive Office for Immigration Review (EOIR) is the name of the court system where the legal web is woven within the Department of Justice. EOIR consists of the U.S. Immigration Court (USIC) plus appellate court, the Board of Immigration Appeals (BIA). If the equation EOIR = USIC + BIA does not equal amnesty for the illegal alien then EOIR offers yet another level of appeal against deportation in the federal circuit courts. Deportation of every illegal alien and criminal alien potentially becomes a federal case. The result is a continuation of the old amnesty law that President Reagan signed in 1986, and the threats to American security that Michelle Malkin brilliantly analyses in Invasion.
EOIR permits criminal aliens who have a Green Card to stay in the United States even if criminal conviction makes them deportable. A Green Card signifies lawful permanent resident (LPR) status. Any illegal alien who has been a LPR for five years becomes eligible for naturalization. Once naturalized, the illegal alien cannot be deported no matter how egregious a criminal.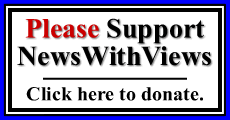 EOIR Immigration Court judges grant non-resident cancellation of removal. Note those three negatives. In English that means that the judge grants an LPR Green Card to a deportable illegal alien if he has lived illegally in America for 10 years and has a spouse, parent, or child who is a citizen or LPR. This provides incentive to any fertile male or female illegal alien, decent or criminal, to immediately beget in marriage or out of wedlock an Anchor Baby who at birth becomes an instant citizen eligible for all welfare benefits. The Anchor Baby or citizen spouse becomes the legal pivot point. If the deportable criminal illegal alien's deportation could cause exceptional and extremely unusual hardship to the qualifying citizen relative, he stays.
The woman riddled with bullets who bled to death on the OR table might have lived if her vicious husband had remained deported and not welcomed back with a Green Card for further bloody horror.
� 2005 Madeleine Cosman - All Rights Reserved


E-Mails are used strictly for NWVs alerts, not for sale